It was a hive of activity on the day of my visit to the offices of the South African Depression and Anxiety Group (SADAG) in Johannesburg. Before my meeting with the SADAG staff, I perused information leaflets that described how the more rural North West Province of South Africa has just one psychiatrist per five million people and zero dedicated psychiatric beds. Access to specialised mental health services is also dire nationally, with approximately 3.6 beds per 100,000 people. Specialist services for youth facing mental illnesses like bipolar disorder are practically non-existent.
Huge gaps exist in improving health and quality of life for people with bipolar disorder in lower and middle income countries.
Sobering statistics such as these sharply underscore how critical SADAG's work is. During my visit, I heard the continual murmur of support staff connecting by telephone with people across the country who were reaching out for help with their mental health challenges. Beyond call centre support, the organization offers over 200 support groups in multiple languages and geographies. They often work in tandem with traditional healers, hospitals and clinics, schools, universities, churches, and youth groups.
The point of my visit was to brainstorm ideas for how SADAG and CREST.BD can join forces; our vision is to optimize support for people living with bipolar disorder in South Africa. Many of CREST.BD's research and knowledge exchange outputs in self-management, quality of life, and stigma-reduction would be useful to the communities that SADAG serves. Perhaps even more importantly, our network's community-engaged approach to research represents an ideal fit for a country as diverse as South Africa; community-engaged research methods are known to be particularly suitable for working with socially disadvantaged communities who are disproportionately affected by health disparities. But there are also potential benefits of this collaboration for Canada. Through such a partnership, for example, we could learn more about how best to support ethnically diverse, marginalized, or low-literacy Canadians living with bipolar disorder.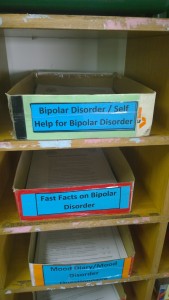 So, how will we move forward? Our meeting identified several exciting opportunities. May 26th, 2016, is national Bipolar Day in South Africa, and we committed to co-host an online SADAG-CREST.BD event. Details are pending – our most pressing issue now is selecting what the focus for the event should be (self-care? youth-engagement? stigma?) – there's so much knowledge to share! It's fabulous to think that we can host our first joint event so imminently. I'm cognizant, however, that this type of event really just represents a "low hanging fruit." More sustainable knowledge exchange, particularly in communities without easy access to technology, or in people who speak one of the 11 official languages of the country other than English, will take more time, brainstorming and funding. But we have at least begun the process that will in time help us reach the fruit at the top of the tree.
An NGO with a 20-year history, SADAG is at the forefront of patient advocacy, education and de-stigmatisation of mental illness in South Africa. You can learn more about their mission and work here.