We are delighted to announce that Professor Grey Murray has been awarded the Vice-Chancellor's Award for Excellence in Research at 20th Annual Swinburne University VC Awards ceremony held on 4th of December 2017. The award was delivered in recognition of his sustained commitment to high impact research into bipolar disorder mechanisms and innovative treatments.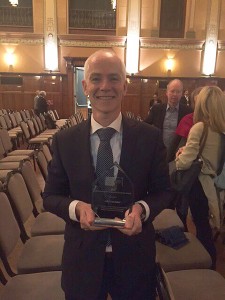 Professor Murray is a network deputy at CREST.BD, and a practicing clinical psychologist. His major research interest is the chronobiology of mood, especially the relationship between sleep, circadian function, and positive mood states, and he has over 100 publications in this area.
He is also Chief Investigator for the ORBIT Research Program, an international online intervention targeting people who have experienced numerous episodes of bipolar disorder. The much anticipated project has now launched and is inviting people from around the world who experience bipolar disorder to participate. To learn more about ORBIT, visit www.orbitonline.org or read our recent blog.
For further information about Professor Murray's research, visit his CREST.BD profile.