We are excited to announce a new way that you can interact with TalkBD, the TalkBD: Bipolar Disorder Podcast. 
Our TalkBD series has been active for over two years now – during this time, we have featured 27 different speakers, including researchers, experts, and those living well with bipolar disorder themselves. So far, our TalkBD episodes have covered 23 topics on bipolar disorder, hosted 750+ live attendees and have reached over 10,000 people worldwide.
Subscribe to TalkBD Bipolar Disorder Podcast
You can now listen to all TalkBD episodes while on the go, or revisit past episodes you may have missed! This podcast is now available on Spotify, Apple Podcasts, and Google Podcasts streaming platforms. As always, video recordings of our past episodes are also available on our YouTube channel. Subscribe now:
---
Upcoming TalkBD Episode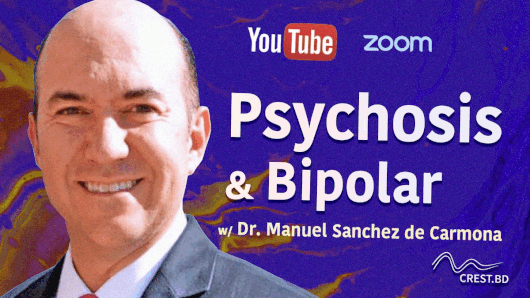 If you want more TalkBD content, join us at our next TalkBD LIVE event on September 13th to learn about the relationship between psychosis and bipolar disorder. This event will feature Professor Manuel Sanchez de Carmona, professor of clinical psychiatry at Anahuac University Mexico City, Victoria Maxwell, mental health educator and performing artist, and Dr. Emma Morton, CIHR Banting Postdoctoral Fellow at UBC Psychiatry. 
Have a question you'd like answered at our next TalkBD event? Submit your questions before the event!
We hope to see you on podcast streaming platforms and at our next event!