Today I'm taking the time to talk (well write) about an important health topic, sometimes referred to as 'the black dog:' depression. For those that have not experienced it, most know a family member, friend, colleague or other person who is dealing or has dealt with it. Depression can entail overwhelming feelings of sadness and gloom. It can impact the ability to get out of bed in the morning and participate in daily life. It affects motivation, energy levels and sleeping patterns. It can feel as though there is a dark grey storm cloud around you and your life that impacts everything you do and follows you everywhere you go. Until it finally lifts.
So what lifts the storm cloud? How do people seek help and treatment for depression? The most common treatments are anti-depressant medications, and psychotherapy (also known as talk therapy). Usually this is prescribed or recommended by a family doctor, or sometimes a psychiatrist. However, exercise can also be considered as a treatment option for depression.
Exercise?! Yes, you read that right! Evidence continuously shows exercise can reduce depressive symptoms (such as feelings of sadness, lack of motivation and low energy)1 and can improve quality of life2 for individuals with depression. The Canadian Network for Mood and Anxiety Treatments (CANMAT; http://www.canmat.org/) now recommends exercise as a stand-alone treatment for mild-moderate depression, and in combination with other treatments (such as medication or talk therapy) for moderate-severe depression3. I think it's safe to say this is significant, as it's the first time in Canada exercise has been recommended as a stand-alone treatment.

Exercise is structured physical activity, done for the purpose of improving health or fitness. This is different to general physical activity, which is any movement that requires energy. Physical activity has other health benefits but may not necessarily work to treat depression. An individual's current activity and fitness levels should be considered when determining or considering exercise as a treatment. Like any treatment, exercise should be discussed with your doctor or health care provider before beginning.
A good guide or 'dose' to aim for or work up to from the best available evidence is:
30 minutes, 2-3 times per week
Moderate intensity (an example is walking as if late to a meeting)
Supervised if possible (done with an exercise professional or instructor to help you continue coming to sessions and engage in a program)
Aim for a minimum of 9 weeks to see treatment effects
Another type of evidence to support exercise is testimonials from real-life experiences. Below are some positive quotes from adults who have lived experience with depression in Canada who were kind enough to share.
"I think exercise is a key to… alleviating depression and getting people feeling better if it is done over a long term."
"Exercise for me personally brought me out of depression – exercise by itself. I believe in it."
If you want more information on exercise and depression, please visit www.exerciseanddepression.ca.
An evidence-based resource is hosted on the site, 'The Exercise and Depression Toolkit.' This is a resource created for health care providers to use collaboratively with individuals with depression to consider exercise as a treatment. If you are someone experiencing depression and wish to discuss or consider exercise as a treatment, you can use this resource to bring to your trusted health care provider to do so. Engaging in exercise can be a difficult task. The toolkit includes some action materials that can be used to help overcome common barriers to being active.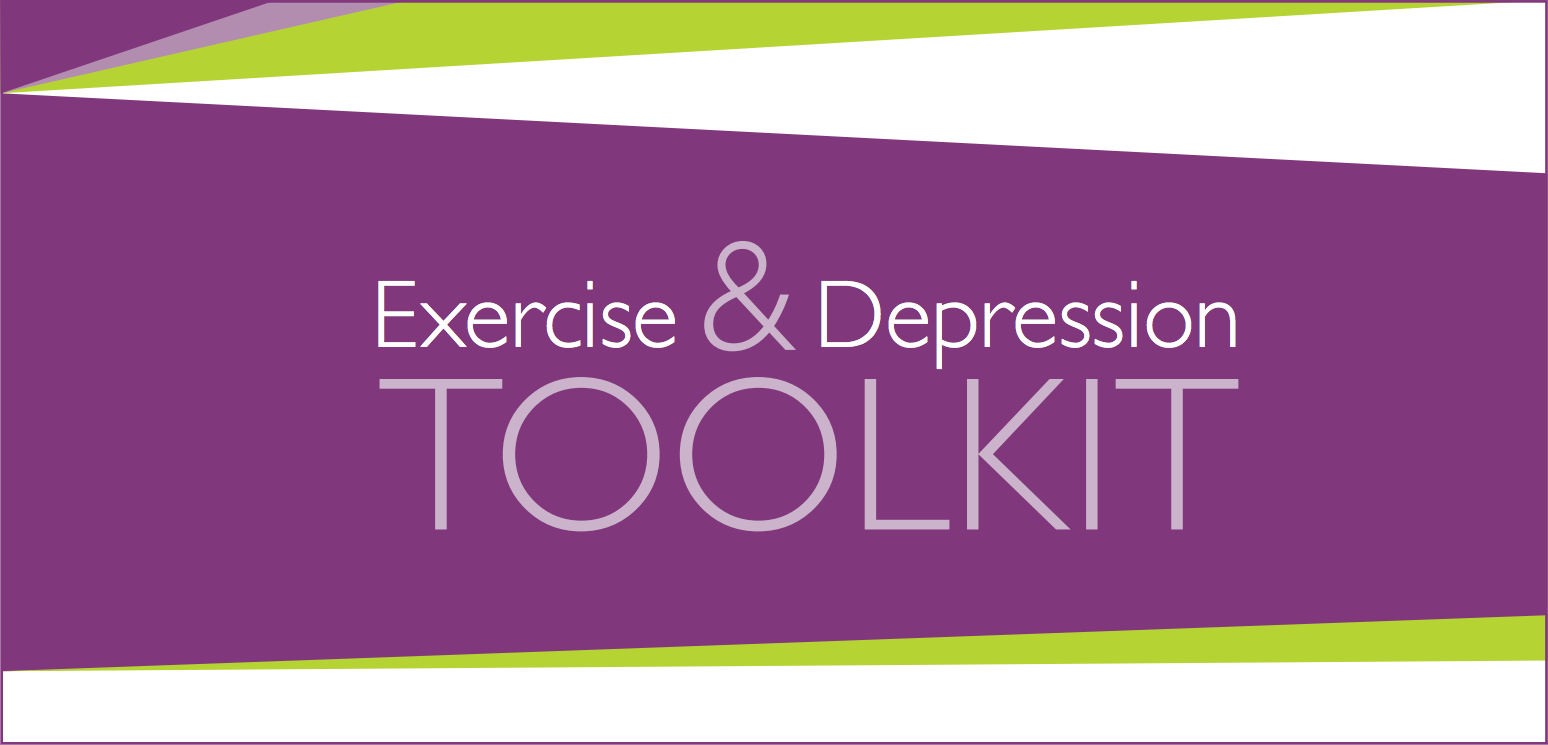 Exercise is a treatment option that can be considered to help lift that storm cloud. The Exercise and Depression Toolkit is a starting point to help facilitate collaborative conversations to consider exercise for those living with depression.
A note for health care providers: The Exercise and Depression Toolkit is a resource to help guide collaborative conversations about exercise as a treatment option for depression with your clients or patients, and to help you engage in physical activity promotion in general. The toolkit includes relevant evidence, clinical guidelines for exercise and depression, a guide for conversation and language related to exercise, and handouts that can help individuals with depression overcome their barriers to being active.
Thank you for taking the time to read and I hope you will visit our website and download the toolkit!
References:
1. Morres ID, Hatzigeorgiadis A, Stathi A, et al. Aerobic exercise for adult patients with major depressive disorder in mental health services: A systematic review and meta‐analysis. Depression and anxiety. 2019;36(1): 39-53. doi: 10.1002/da.22842
2. Schuch FB, Vancampfort D, Rosenbaum S, Richards J, Ward PB, & Stubbs B. Exercise improves physical and psychological quality of life in people with depression: A meta-analysis including the evaluation of control group response. Psychiatry research. 2016; 24: 47-54. doi: 10.1016/j.psychres.2016.04.054
3. Ravindran AV, Balneaves LG, Faulkner G, et al. Canadian Network for Mood and Anxiety Treatments (CANMAT) 2016 clinical guidelines for the management of adults with major depressive disorder: section 5. complementary and alternative medicine treatments. The Canadian Journal of Psychiatry. 2016;61(9): 576-587. Doi: 10.1177/0706743716660290
---
Krista is an occupational therapist and has worked in the field of mental health for several years. Krista is also a PhD Candidate at the University of British Columbia in the Population Physical Activity Lab (Pop-PA Lab) supervised by Dr. Guy Faulkner, where she co-led the development of the Exercise and Depression Toolkit. Her research interests include the broader relationship between physical activity and mental health focusing on the population of individuals with mental illness.
---
Follow us on social media: