Continuing sharing the work of our talented network members, Community Advisory Group member Raymond Tremblay (whose alter ego is the one and only Santa Claus) has published a brand new collection of his writing! Raymond is a heartfelt and prolific writer and we have been lucky to share in his poetry over the past few years. His poems decorate our offices here at UBC and at the HOpe Centre in North Vancouver and they speak to resilience, wellness, community, and health. This collection includes 90 poetic short stories and photographs of children and families who visited Raymond when he played Santa Claus at the Rideau Centre in Ottawa. This collection is extra special to us because of the piece about Research Coordinator Nusha's son Ash on page 22!
Email Raymond at realsanta1225@gmail.com to purchase a copy.
The piece featured below is a new poem of Raymond's offering a look at mental health in relation to nature. Congratulations Raymond.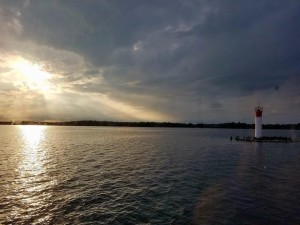 CALMING SUNSET
Coming out of my manic tempest, I desperately needed to rest.
At last, my erratic energy level slowly dissipated thank goodness.
Life became so peaceful for me once again. I rediscovered my sanity.
My wounded mind begged for sensible support in order to heal properly.
I lucked out. My family, friends and health professionals came to my rescue.
Naturally, I no longer felt the urge to resist their keen help. I was long overdue.
Gradually, the paralyzing darkness abandoned my mind. The sunlight reappeared.
Steadily, soft and soothing rays of hope warmed my bruised heart. I no longer feared
Unexpected moments of loneliness since I was never alone. Love gently nurtured me.
Now that I bathed in a sea of much healthier mental equilibrium, I felt super free.
Sunny days would surely become dark and stormy in the future but I'd survive.
Eh, life taught me a precious lesson! "To a new shore, you will soon arrive.
Thunder storms will no longer scare you. I'll always brighten your days."
Poem written by Raymond D. Tremblay (Ottawa) ©
in appreciation of an inspiring picture taken by
Carol Ellen Kowalik-Happy, a friend's wife.
Photo taken in the Thousand Islands, ON.