The 'quantified self' movement believes that the more data we have about our own lives, the more empowered we are to figure out what is happening with our health and make positive changes. Many people with bipolar disorder have heard the suggestion to keep track of their mood and sleep, and we do have a lot of evidence to show that this is an important way to stay well (Morris et al., 2007). A survey showed that people with bipolar disorder are interested in tracking other life domains besides mood and sleep, but there was no single self-monitoring tool that people with bipolar disorder could use to get a holistic picture of their wellness. This is where the construct of quality of life comes in. Previous CREST.BD showed that there are a broad range of life areas important to quality of life for people with bipolar disorder, such as relationships, independence, money, physical health, and more (see our Bipolar Wellness Centre to learn more about the full range of quality of life areas). The team here at CREST thinks that the QoL Tool (a questionnaire designed to assess people's perceptions of their quality of life across the range of areas thought to be particularly important to people with bipolar disorder) could be a very useful aid for people interested in monitoring their wellness in a broad range of areas over time, and we are working towards integrating quality of life self-monitoring into the Bipolar Bridges app.
However, there is evidence to suggest that self-monitoring is not always a positive experience for people who have a chronic mental health condition. Research has shown that for some people, having to complete a mood diary every day may be an unpleasant reminder that one is living with bipolar disorder (van Bendegem et al., 2014), or encourage rumination on negative feelings and make a low mood worse (Faurholt-Jepsen et al., 2015). That means it's important to ask people with bipolar disorder about their experiences of self-monitoring quality of life to make sure it has the benefits we expect it to have.
As part of my qualitative evaluation of the Bipolar Wellness Centre, I interviewed people about their experiences of using the QoL Tool. My research showed that people really valued tracking a broad range of areas as it enabled them to get a more nuanced picture of their wellbeing. This meant that people were able to see those domains where they were flourishing, and direct their self-management efforts to the areas most in need of attention.
Importantly, by showing people the domains where they had achieved a good quality of life, the QoL Tool had the effect of reinforcing the positive. It could help people feel good about the effects of their current self-management efforts, or draw attention to an area where they had underappreciated strengths. This is a completely different experience to what some people had reported when monitoring their mood, where attention to negative events may have increased depressive symptoms. While we're not suggesting that people don't track their mood if that has been useful for them, this suggests that self-monitoring QoL may be a useful complementary outcome to self-monitor as it may have the added therapeutic effect of increasing positive feelings about one's circumstances.
Some people engaged with their quality of life data in different ways, like making graphs in excel or keeping a diary. Moving forward, we'll be using user centered design principles when developing the bipolar bridges app to ensure that we include the kinds of functionality that will help people track, view, and engage with their data in a way that best fits them.
These interviews affirm that quality of life is an important and potentially therapeutic outcome for people with bipolar to track, and says we are on the right path in developing the Bipolar Bridges app. Stay tuned to hear more about how we are developing this new technology to support people to keep track of their quality of life and health data.
Read the full article
Learn more about these findings in our latest publication on the Journal of Medical Internet Research Mental Health:
Experiences of a Web-Based Quality of Life Self-Monitoring Tool for Individuals With Bipolar Disorder: A Qualitative Exploration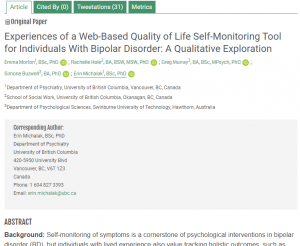 References
Faurholt-Jepsen M, Frost M, Ritz C, Christensen EM, Jacoby AS, Mikkelsen RL, et al. Daily electronic self-monitoring in bipolar disorder using smartphones – the MONARCA I trial: a randomized, placebo-controlled, single-blind, parallel group trial. Psychological medicine. 2015 Oct;45(13):2691-704. PMID: 26220802. doi: 10.1017/s0033291715000410.
Morriss R, Faizal MA, Jones AP, Williamson PR, Bolton CA, McCarthy JP. Interventions for helping people recognise early signs of recurrence in bipolar disorder. Cochrane Database of Systematic Reviews. 2007 (1). PMID: CD004854. doi: 10.1002/14651858.CD004854.pub2.
Murnane EL, Cosley D, Chang P, Guha S, Frank E, Gay G, et al. Self-monitoring practices, attitudes, and needs of individuals with bipolar disorder: Implications for the design of technologies to manage mental health. Journal of the American Medical Informatics Association. 2016;23(3):477-84. doi: 10.1093/jamia/ocv165.
Van Bendegem MA, van den Heuvel SC, Kramer LJ, Goossens PJ. Attitudes of patients with bipolar disorder toward the Life Chart Methodology: a phenomenological study. J Am Psychiatr Nurses Assoc. 2014 Nov-Dec;20(6):376-85. PMID: 25367897. doi: 10.1177/1078390314558420.