In the past few years, cannabis has been legalized in Canada and much of the United States. Its use and legality continue to be an open subject of debate worldwide. In North America, increasing media buzz has questioned how marijuana might support mental health. CBD oil, most notably, has been touted as a treatment for chronic pain, anxiety, and depression – and early research seems to support this(1,2). But what does the research show about bipolar disorder and cannabis?
From the experts: answers from our Reddit AMA
At our annual World Bipolar Day AMA (ask me anything), our experts on bipolar disorder responded to these three questions about cannabis and bipolar disorder. Read along to learn what the data shows so far.
The takeaway
At present, it looks like more research is required to truly assess the effects of cannabis in people with bipolar disorder. Sorry! That said, early research does suggest that marijuana can increase risk of suicidality and psychosis. So, if you have bipolar disorder, have a family member with bipolar disorder, or have experienced psychosis, it's advisable to be very careful about using cannabis. If you do want to try it, work with a doctor if at all possible, and be sure to monitor your mood carefully.
Thanks for reading along. This is a fast-growing area of research – hopefully we'll have more to report in the next couple of years!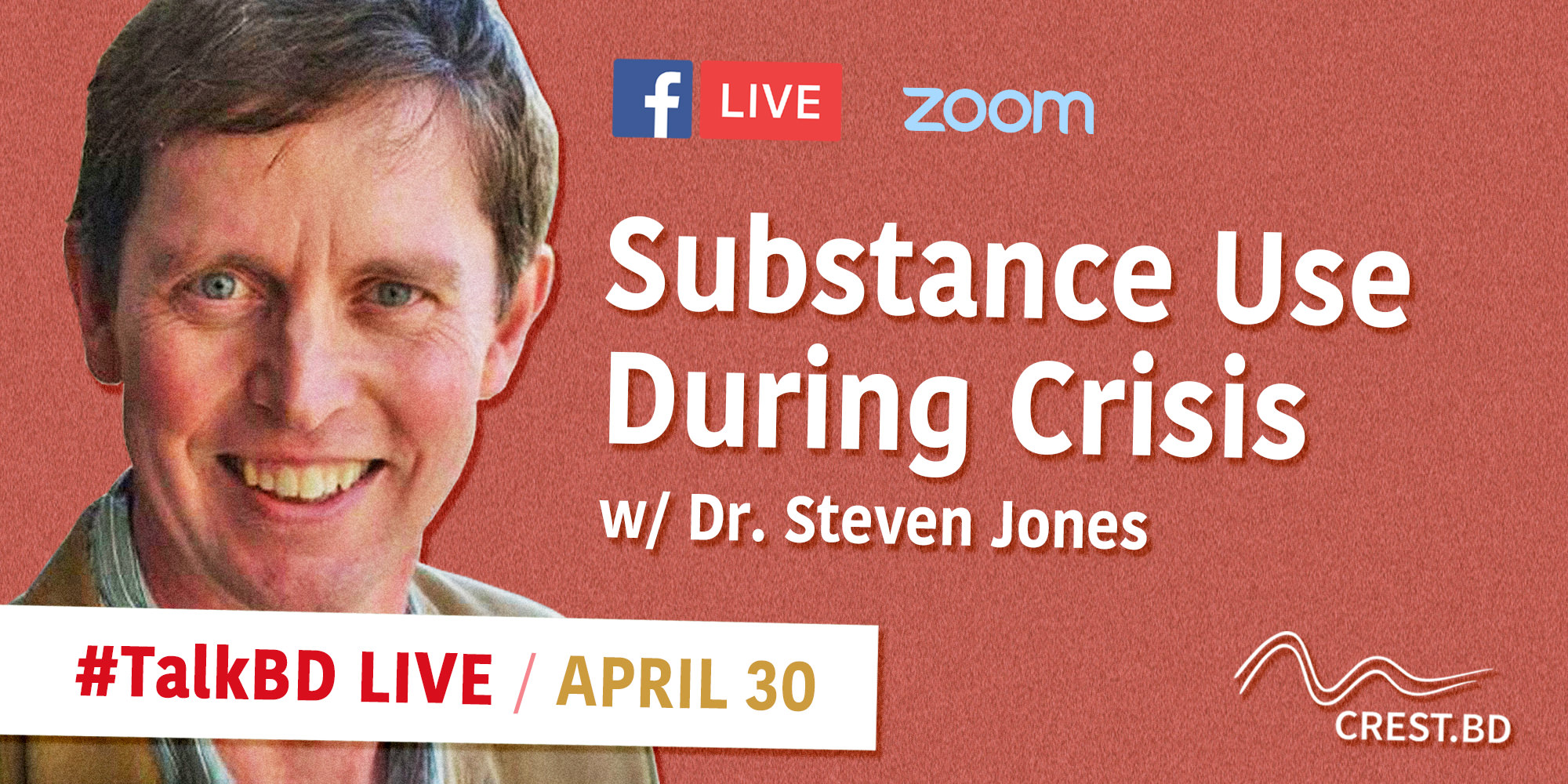 Upcoming Free Webinar: Substance Use, Bipolar Disorder, and COVID-19
You're invited to attend our next #TalkBD online gathering on April 30th at 7pm British time (11am PDT, 2pm Eastern). Dr. Steven Jones from the University of Lancaster will be joining this session, to share information about substance use during times of crisis. If you have a question about substances and bipolar disorder that you'd like Dr. Jones and our other presenters to weigh in on, you can submit it using the form at talkbd.live. Hope to see you there!
---
Finally, in a few days, we'll also be releasing a blog with some of the top questions from our AMA. In the meantime, check out the full AMA on Reddit!
References
1. de Mello Schier AR, de Oliveira Ribeiro NP, Coutinho DS, Machado S, Arias-Carrión O, Crippa JA, Zuardi AW, Nardi AE, Silva AC. Antidepressant-like and anxiolytic-like effects of cannabidiol: a chemical compound of Cannabis sativa. CNS Neurol Disord Drug Targets 2014;13(6):953–960. PMID:24923339
2. Laczkovics C, Kothgassner OD, Felnhofer A, Klier CM. Cannabidiol treatment in an adolescent with multiple substance abuse, social anxiety and depression. Neuropsychiatr 2020 Feb 12; PMID:32052321
3. Bartoli F, Crocamo C, Carrà G. Cannabis use disorder and suicide attempts in bipolar disorder: A meta-analysis. Neurosci Biobehav Rev 2019;103:14–20. PMID:31121199