Last year, we published an announcement of a new project about how to bridge the 'Digital Divide' experienced by diverse youth with mental illness. The project, funded by the BC SUPPORT Unit Patient Engagement Methods Cluster, looks at how to address barriers to accessing digital technologies, and, by extension, digital resources. They've since recruited a team of youth research assistants to help understand what youth and young adults consider important to accessing digital technology.
In this blog post, a youth research assistant shares their experience on the project. Give it a read to learn more!
---
Coming Together:
During the summer months of 2020, the Digital Divide team began an extensive training process with our newly gathered youth research assistants joining the team. This has facilitated the fostering of ideas through the hands and eyes of youth. We each asked ourselves: "How would I, a youth in today's society, want to be reached? What would make me feel more involved and heard when taking part in research?"
Youth-centred innovation is an important aspect of the Foundry's values and the Digital Divide study has made this a priority. Our youth research assistant team allows for the unique opportunity of providing youth with a say in the study process. From recruitment brainstorming, interview phrasing, and outreach, we allow for a unique perspective of being able to put ourselves in the shoes of the participants to make them more comfortable sharing their experiences.
Diversity is a Priority:
We have placed great value in putting our minds together to seek out a diverse range of youth participants. Diversity is a priority, and we made sure that this was evident in our recruitment process. Gurvaan Mann, one of our youth researchers, has gone great lengths to create advertisements that allow every youth to feel welcome. Gurvaan has found that commonly, "In research, diverse voices, such as from people of different races, sexuality, genders (specifically marginalized genders), SES, and ability, are often excluded. However, in our research, we are trying to intentionally take more meaningful steps to include and amplify those voices, such as through our recruitment process and ways in which we are accounting for safety during the data collection."
This study is still recruiting! Read the posters to learn more. Click them to see them with bigger text.

Recruitment posters made by Gurvann Mann and captioned by Mikaela Basile.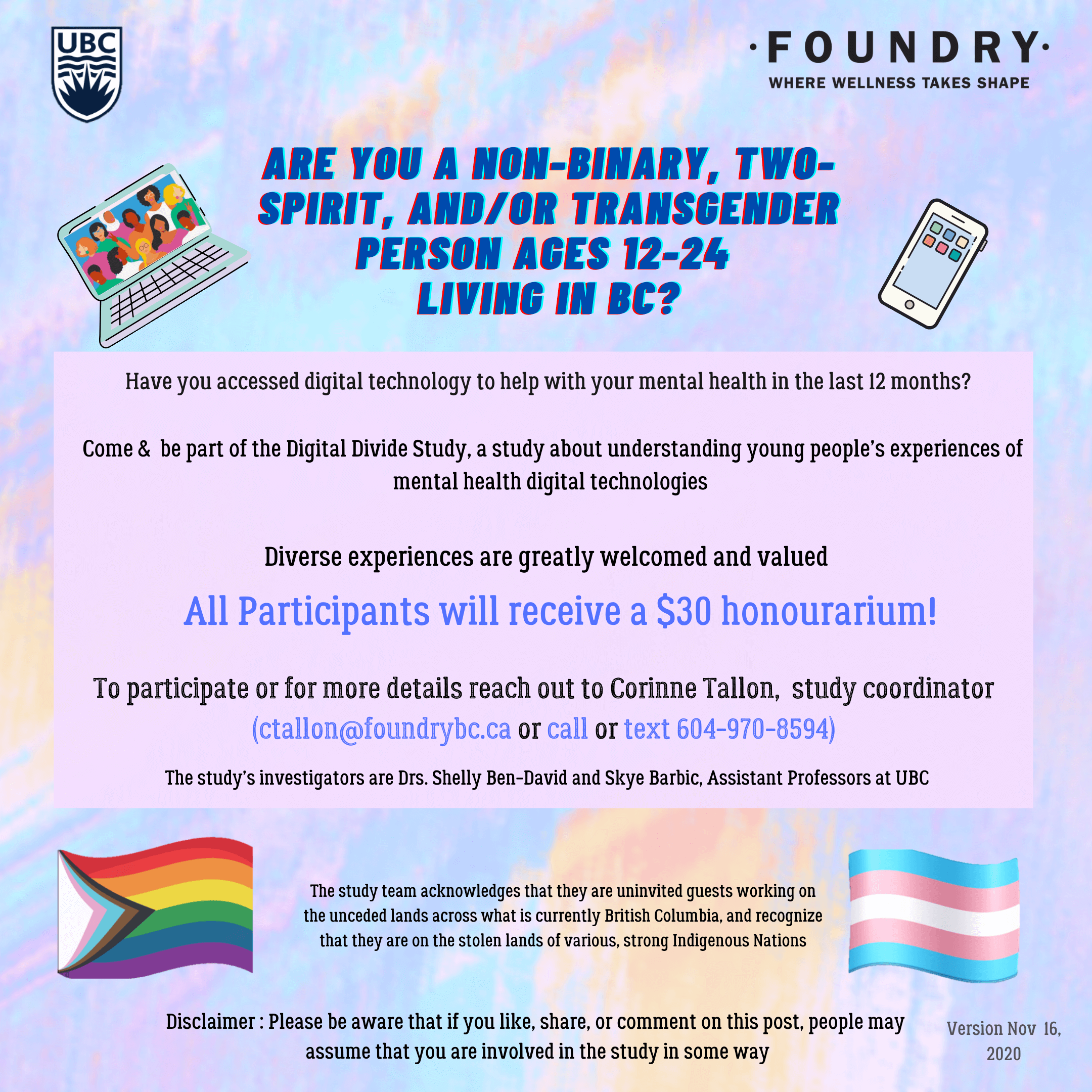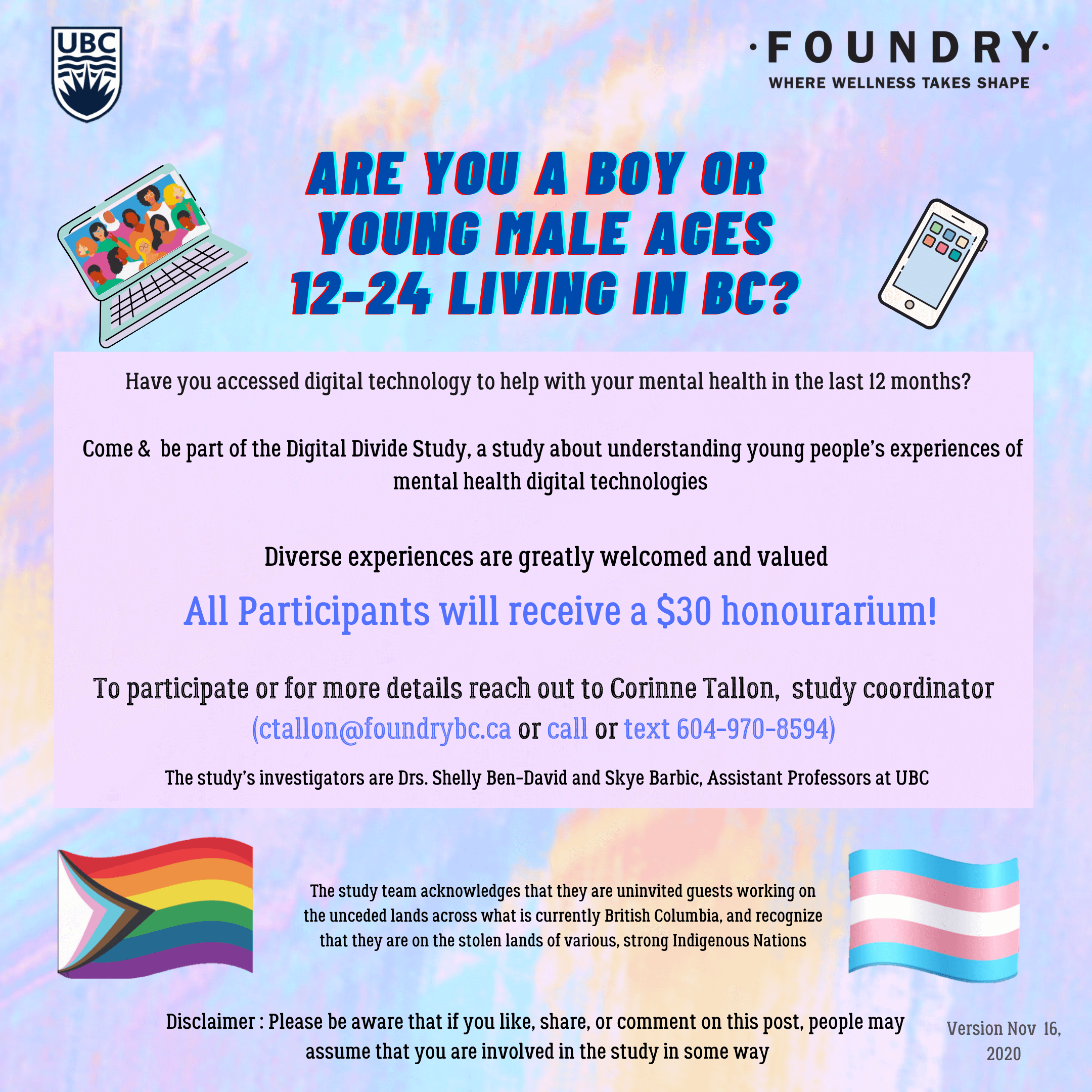 Want to participate, or learn more? Reach out to Corrine Tallon, study coordinator (ctallon@foundrybc.ca or call or text 604-970-8594).

Meet the Youth Research Assistants:
The team has been very excited with the final product of these advertisements, as everyone was able to contribute and comment along the way in order to provide an all-inclusive and inviting visual to attract participants. Through focussing on collaboration during our training and recruitment process, we are able to create an environment that focuses on youth-centred innovation. Having youth be a part of the process allows for that to be an utmost priority. With a combination of individuals in all areas of life, we have fostered discussion on how to connect with youth aged 12-24 in a way that appeals to them.
Accessibility:
On top of prioritising diverse voices in our study, we have made sure to make the study as accessible to all abilities as well. Our youth researcher Mikaela Basile has taken lead in this area, "As a person with lived experience of disability, accessibility is super important to me, especially since we want our study to reach as many youths with diverse experiences as possible. Through my work with disability groups, I've learned the importance of image descriptions and alt-text for users of screen readers and those with low vision. Gurvaan made such beautiful posters and I was able to capture that in our image descriptions and alt-text so our recruitment is available for everyone."
With Mikaela's skill set and prior experience, she was able to consider as many perspectives as possible in how the advertisements would be received.
Social Media:
We have explored the various social media outlets for recruitment and how to make individuals feel welcome and considered during the process. We did, however, encounter a couple of roadblocks in the training and recruitment process. Originally we were hoping to add TikTok to our list of social media recruitment outlets but had to press pause on that idea as we determine ethics requirements. Our Youth Research Assistant, Theresa Schwab, describes this application well as, "a social media app in which users share videos that range from 15 seconds to 1 minute long which has greatly raised in popularity due to its algorithm. The TikTok algorithm is very quick working by taking feedback on the types of videos its users will watch and interact with causing many communities to be born from TikTok (my personal favourite being Frog TikTok). For research purposes, TikTok can become a very useful tool in the recruiting process of studies. Due to the algorithm's ability to find the target audience of posts, posts made to recruit participants would have a higher chance of ending up on the For You Page of someone who fits the study requirements. In the use of studies looking for youth participates TikTok's user base is largely made up of youth with 40% of users being between the ages of 16 and 24 (Globalwebindex, 2019)."
During this pause, we have shifted our energy further into training and preparing ourselves for any situation that may present itself, on top of adding new strategies to the interview process in order to increase safety and welcome diverse voices.
Virtual Training:
With a youth research assistant team of 4 individuals with varying backgrounds, our training process has been filled with excitement, learning, listening, and experimenting. A great hurdle we had to manoeuvre was the entire training process taking place over the internet. The process was new to everyone which required a lot of patience and understanding during our many Zoom meetings. Our training has consisted of numerous icebreakers to get to know our team and then using these skills to help practice building rapport with our participants. One of the most important areas of this study is providing a safe space free of judgment for us to listen and youth participants to share their experiences. Many practice interviews have allowed us to explore different scenarios and to help teach each other how to be both active listeners and curious researchers.
This training process has taken place during a global pandemic which has brought on added challenges but with the wonderful team we are a part of we have been able to obtain very valuable skills from this virtual project. It has been quite an experience getting to work with individuals all around BC. From discussing the different weather everyone is experiencing where they are, to practising social distancing while still getting outside and enjoying our summers, this has been quite a unique journey. To be able to experience it with, and to learn from some of the incredible individuals on our team, it continues to be an inspiring journey. Not only are we as youth researchers grateful to take part in such a valuable and innovative study, we are also excited to begin the process of data collection and putting the skills we have learned over the last few months to the test. Being able to hear the stories of our participants is a privilege we do not take lightly and we look forward to exploring the digital divide to make the future of mental health care for youth more accessible for all. See you on Zoom!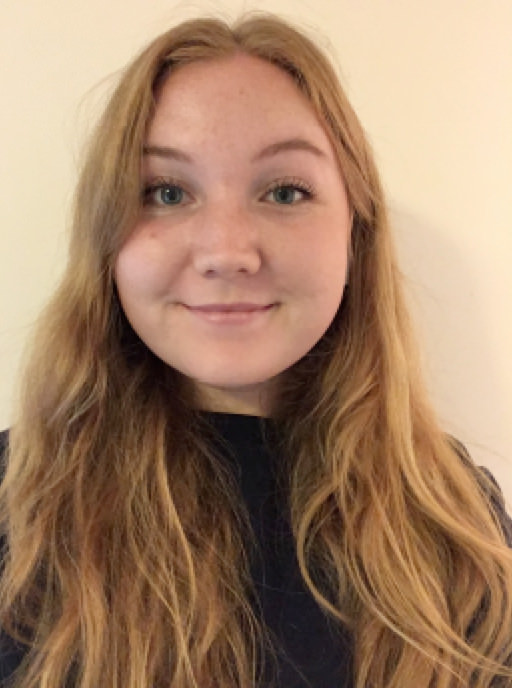 My name is Julia Gray and I am currently finishing up my final semester of my undergraduate degree at the University of Victoria in Psychology and Sociology. I am passionate about the outdoors, cooking, and accessible mental health care, and I am very excited to be a youth research assistant on the Digital Divide study alongside my inspiring team members!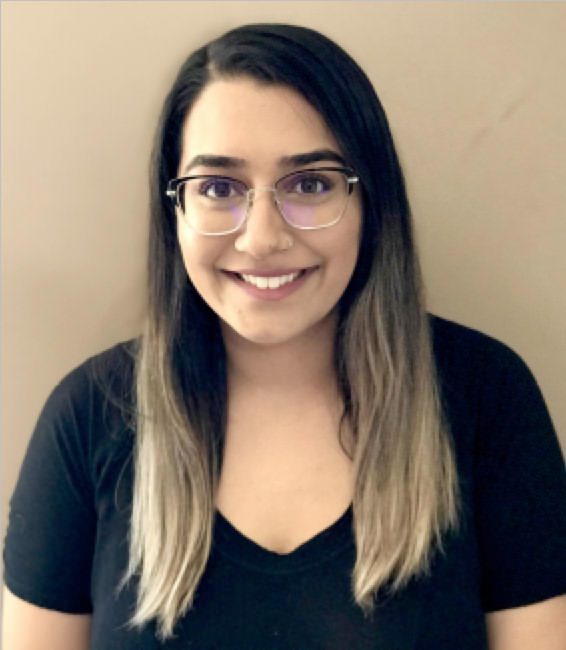 Gurvaan Mann is currently completing her undergraduate degree at UBC, studying Psychology and Asian Area Studies. She is incredibly passionate about intersectionality and has been keen to include aspects of that within this research process.
Mikaela Basile is a youth research assistant for the study, who is just finishing up her last semester of her International Studies degree at university. She is a mental health advocate with a love of volunteering, snail mail, and disability justice. Mikaela is excited that this study has such an emphasis on including diverse voices!
Theresa Schwab is currently in their 2nd year of university, studying Psychology and Environmental Studies at the University of Victoria. Their passions lie in mental health advocacy and sustainability.
References:
Previous Posts About the Digital Divide