UPDATE: Thank you for participating! The Bipolar Psilocybin survey is now closed.
Analysing and publishing results takes time, so please note the results will not be in for a few months at least. Thank you for your patience!
If you'd like to stay updated on this and other bipolar disorder research, please follow us on Facebook, or sign up for our email list. We also share helpful events, support tools for bipolar disorder, and stories from people who live with bipolar disorder!
Or, if you're specifically interested in psychedelics research, please follow the BANDLab on Twitter or Facebook. Thanks again everyone!
---
"Shrooming" with Bipolar Disorder: A Psilocybin Survey
Magic Mushrooms and Bipolar Disorder: Share Your Experiences
The University of California, San Francisco BAND Lab is seeking adults (age 18+) who have been diagnosed with a Bipolar Disorder and previously taken Psilocybin/Hallucinogenic "Magic" Mushrooms to complete a survey about their experiences.
The purpose of this study is to provide an understanding of potential risks and benefits for future research regarding psilocybin assisted therapy.
The survey is now closed. Thank you for your incredible response!
---
Survey World Map
(Updated: Nov 12, 2020)
244 people from around the world have shared their experiences on the survey!
Check out this interactive map to see where they have connected from:

---
In the video below, Dr. Mollie Pleet, clinical psychologist and research fellow at the BAND Lab, introduces the study!
The Bipolar Psilocybin Project (BiPsi)
Recently, the University of California San Francisco BAND Lab has begun exploring the therapeutic effects of psychedelic medicines. They've specifically been focusing on studies using psilocybin, which is the primary psychoactive component of magic mushrooms.
The BAND Lab will soon conduct the world's first clinical trial of psilocybin therapy for people with bipolar depression. In order to conduct that study in as safe and supportive a way as possible, they've teamed up with us at CREST.BD to conduct an online survey exploring the experiences that people with bipolar disorder have had when using magic mushrooms.
If you, or anyone who know has bipolar disorder and has ever taken a full dose of magic mushrooms, please consider taking and sharing our survey. Your contributions will help support the BAND Lab's goal of improving the treatments available for people with bipolar disorder!
For more information:
Visit our website: bandlab.ucsf.edu
Contact us: psilocybinstudies@ucsf.edu
This study is administered by UCSF's BAND Lab. The principal investigator is Dr. Joshua Woolley, you can contact his lab at the email listed above.

---
Previous Posts About the Study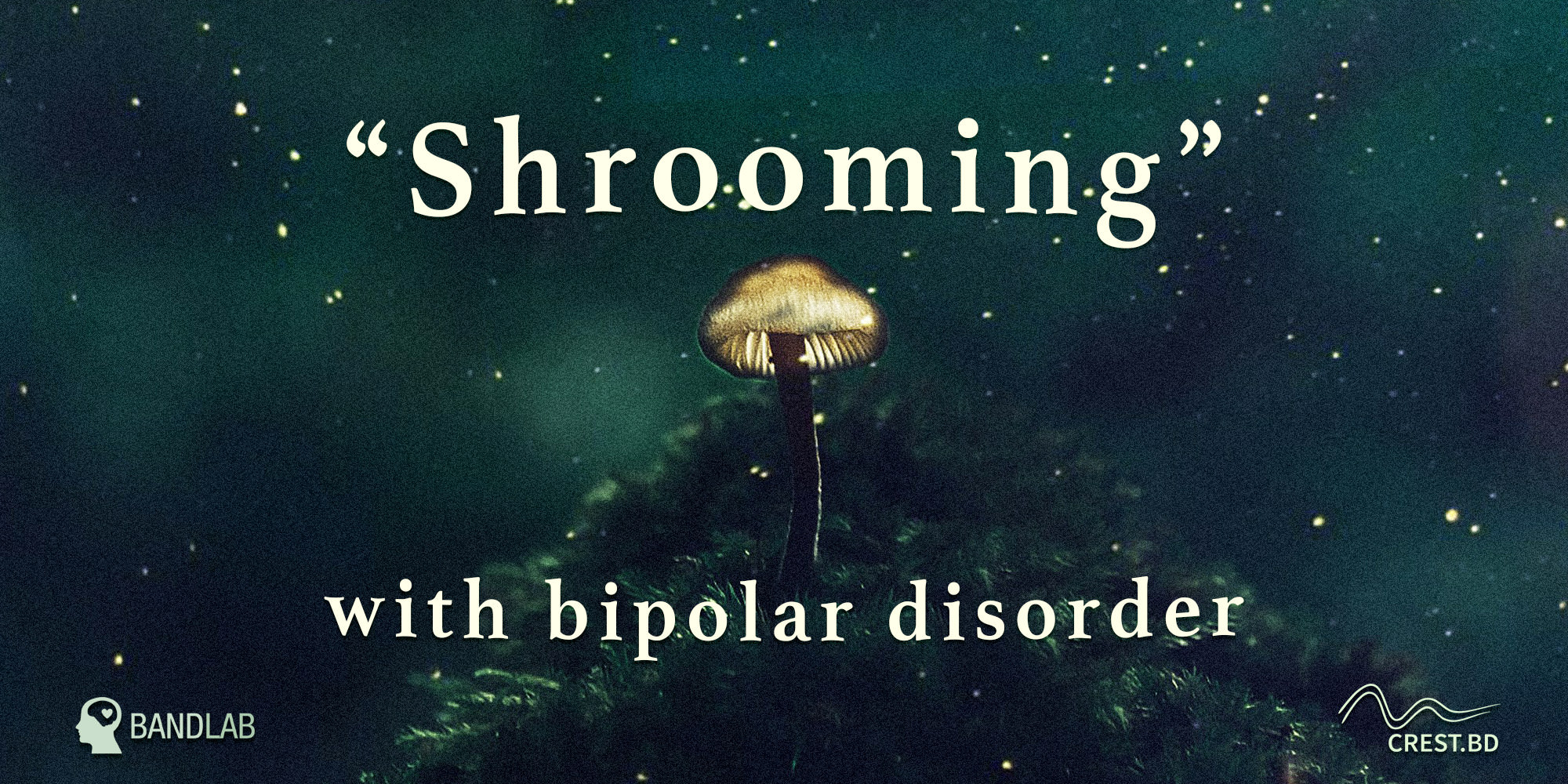 ---
Follow us on social media: