On World Bipolar Day, we hosted our third annual "Ask Me Anything" (AMA) on Reddit! In partnership with the International Society for Bipolar Disorders, CREST.BD brought together 28 bipolar disorder experts and scientists from around the world to answer your bipolar disorder questions.
Today is #WorldBipolarDay! Right now, 28 psychiatrists, psychologists, and experts from around the world are online and answering your questions on the biggest #bipolar Q&A on the internet!🌎📢

Join our "Ask Me Anything": https://t.co/yfFGqiRvb7
Details: https://t.co/4ymHkLpr6f pic.twitter.com/9kz13YXbXI

— CREST.BD (@CREST_BD) March 30, 2021
The AMA was a huge success! Thank you so much for over 1000 Reddit comments and for all of your amazing questions. We're so happy to have been able to provide information and support for the bipolar disorder community, especially during the ongoing difficulties of COVID-19.
Check out our World Bipolar Day AMA on r/IAmA!
Our Top Questions
In the upcoming weeks, we're be releasing a full series on the most popular topics! But for now, here are our most upvoted questions.
1. What is the relationship between bipolar disorder and trauma?
---
2. What differentiates bipolar disorder from borderline personality disorder, and other disorders?
---
3. Can OCD be mistaken for mania?
---
4. How do I handle stigma from my family?
---
5. Have any of you ever seen someone that did well without medication?
---
6. Could somebody speak to medication burnout? I've seen lots of remarks about that being an issue, where efficacy just drops over time. How can one tell if that is starting to happen?
---
7. How do you help a suicidal bipolar person? What are the odds of actually changing this way of thinking?
---
7. Could you touch on BD and pregnancy?
---
8. What resources, if any, exist for those of us who live with and love someone with bipolar disorder?
---
9. What are some of the lesser known symptoms of bipolar disorder?
---
10. Is there a way to reduce depression while keeping some level of mania?
---
11. What are your thoughts on the user of psychedelics in treatment, and how can I get involved?
---
Thank you again to everyone who took part in our AMA! We hope that our team of panelists has been helpful to you. We'll be back soon with more blog posts about some of the most requested topics, like genetics and bipolar disorder, and bipolar disorder comorbidities. Stay tuned!
---
Previous AMA Events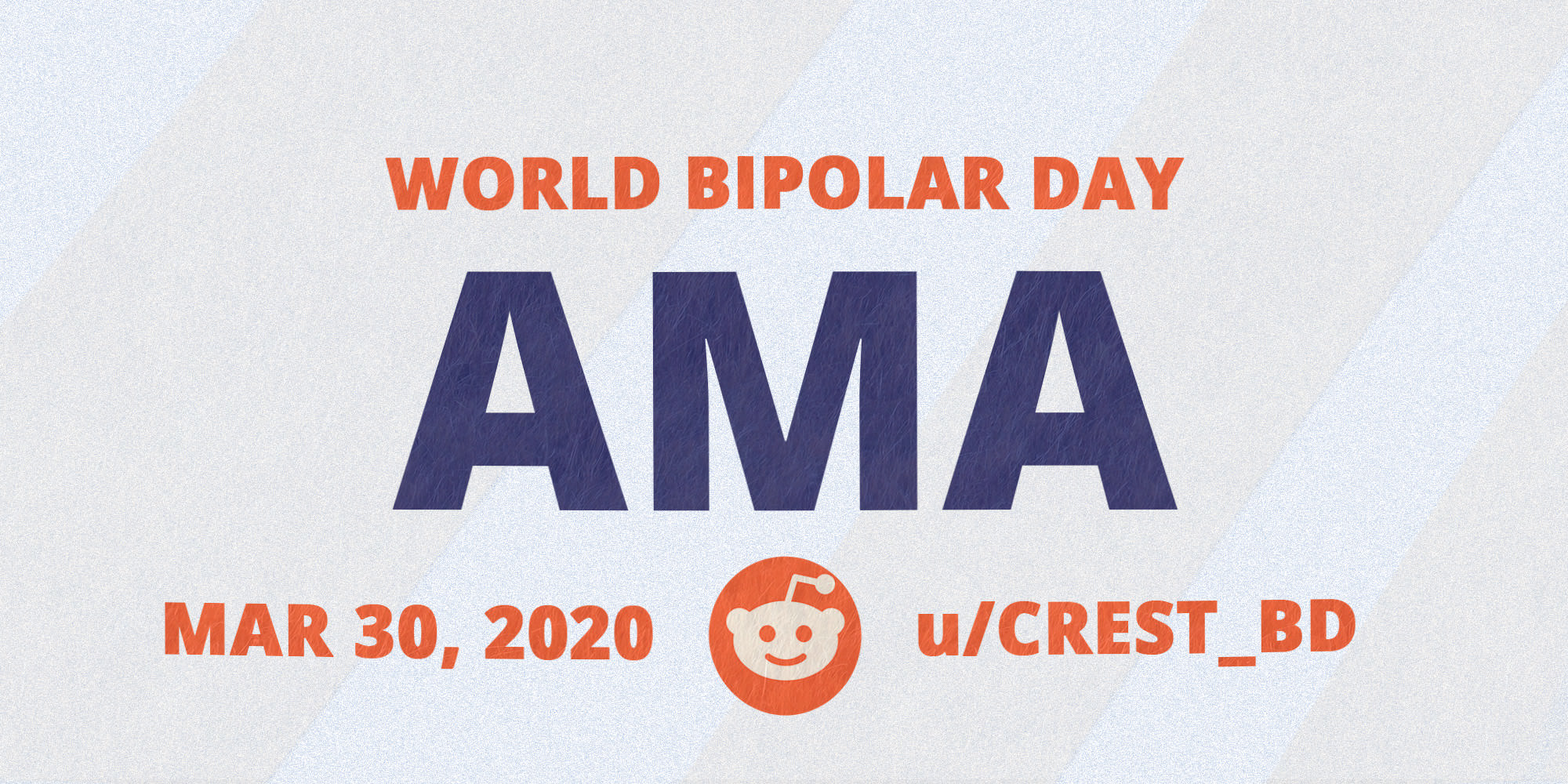 We had an incredible response to last year's AMA! The thread saw over 1,000 comments from people with all sorts of questions about bipolar disorder. We've taken some of the highlights from the day and published then in a blog post here.

Erin and Steven hosted our first bipolar AMA on March 29th, 2019, and the response was overwhelming! Like with last year, we published some of the highlights in a blog post here. We also hosted live Twitter Q&As on all things bipolar on Bell Let's Talk Day 2019 and 2020 – you can read those questions and answers here.