The use of apps to improve mental health is a booming field of research. A quick look at the app store will show thousands of options that claim to help people cope with mental health symptoms, including options targeting bipolar disorder.
However, research shows that people often stop using apps shortly after they download them1, and app-store reviews suggest that current apps aren't meeting the needs of people with bipolar disorder2. Teams like CREST.BD are trying to develop new apps that better address user preferences – to do so, however, we needed to find out more about what people with bipolar disorder look for in health apps.
"People with bipolar disorder were looking for apps that were credible, easy to use, flexible, low cost, and secure."
In March 2020, we launched the Bipolar Bridges online app survey. Over 900 people with bipolar disorder responded to share their thoughts on health apps. Preliminary findings from the survey were recently presented at the International Society for Bipolar Disorders online conference, and received a "Best Poster" award! We're excited to share these early findings with you.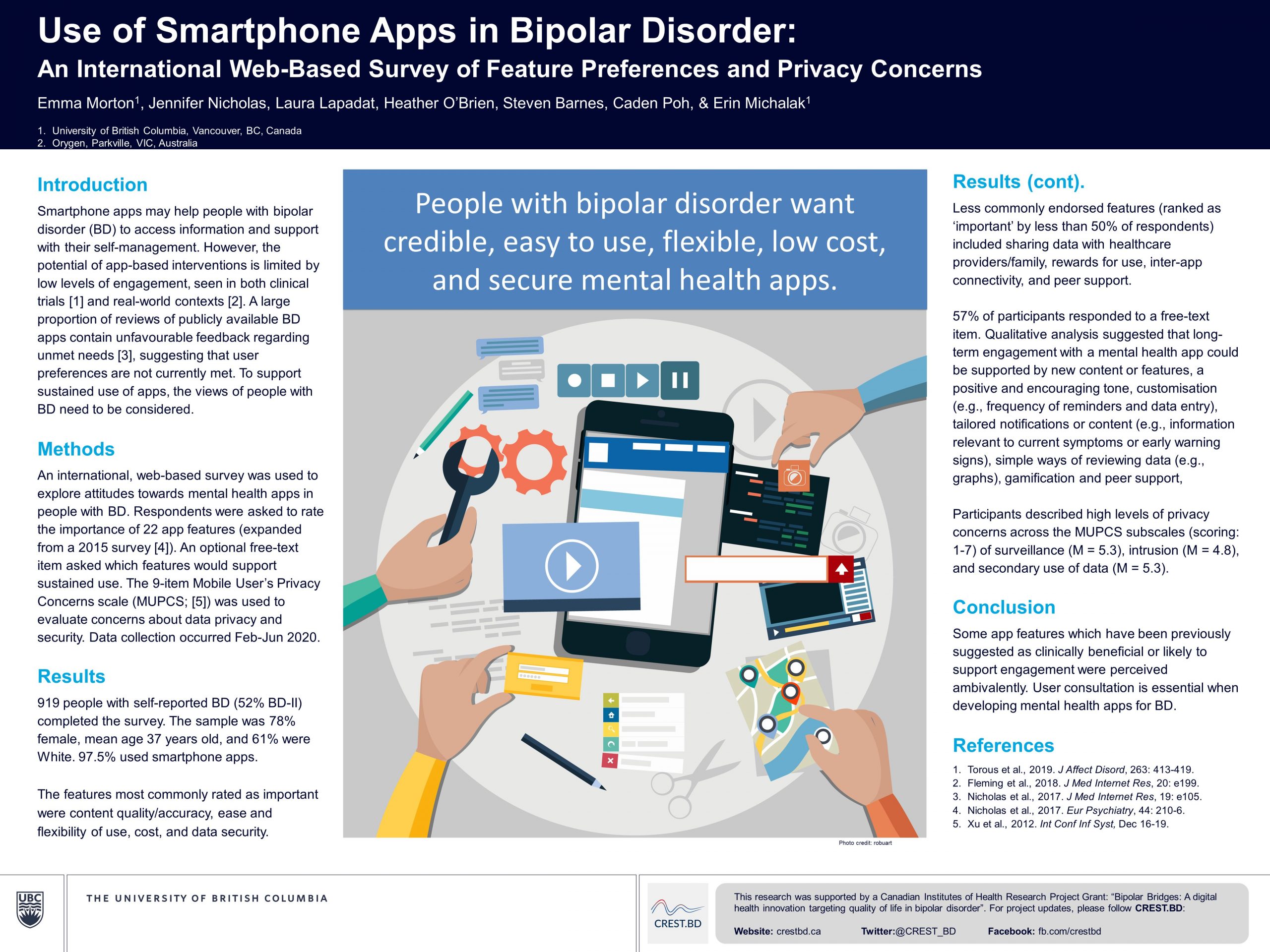 We found that people with bipolar disorder were looking for apps that were credible, easy to use, flexible, low cost, and secure. Some features were seen as less important, like the ability to talk to other people with bipolar disorder, rewards for use, inter-app connectivity, and the ability to share data with healthcare providers or family/friends. The CREST.BD development team is discussing these findings in greater detail with the Bipolar Bridges Advisory Group to get more feedback about how these features can be implemented in our app.
If you'd like to stay updated on the Bipolar Bridges app development project, please follow us on Facebook, or sign up for our email list.
References
Fleming T, Bavin L, Lucassen M, Stasiak K, Hopkins S, Merry S. Beyond the Trial: Systematic Review of Real-World Uptake and Engagement With Digital Self-Help Interventions for Depression, Low Mood, or Anxiety.J Med Internet Res 2018;20(6):e199
Nicholas J, Fogarty AS, Boydell K, Christensen H. The Reviews Are in: A Qualitative Content Analysis of Consumer Perspectives on Apps for Bipolar Disorder. J Med Internet Res 2017;19(4):e105.
---
Previous Posts about Bipolar Bridges