As you may know, the CREST.BD team has been hard at work on the Bipolar Bridges project to create an app for bipolar disorder. In this Bipolar Bridges update, we're happy to announce that we've put together a team of writers, and written our first big chunk of content: affirmations!
Affirmations: positive statements that help create a sense of being "good enough1."
The Bipolar Bridges Project
The Bipolar Bridges app will be a tool to help users live well with bipolar disorder. Unlike most apps available for bipolar disorder, Bipolar Bridges is not just for managing the mood states of depression and mania (or hypomania). Instead, it will be a tool to help people with bipolar disorder improve their overall lives–whether in an episode or not–using strategies supported by research.
The app will be structured around the QoL.BD, CREST.BD's instrument for measuring quality life in bipolar disorder using 14 life areas. These life areas include sleep, mood, relationships, identity, and lots of others. You can read more about the quality of life areas on our Bipolar Wellness Centre.
Our Writing Team
The first step to writing the app content was, of course, putting together a team of writers! So, a few months ago, we recruited a team of people interested in writing for the app.
A huge part of CREST.BD's mission is to include the voices of people with bipolar disorder in the research that concerns them. That's why we recruited people who live with bipolar disorder to join the Bipolar Bridges writing team, including members of the Bipolar Bridges Advisory Group. We also included volunteers and members of our extended network.
Once we gathered our team, we got to work on our first writing job: writing affirmations!
Why Write Affirmations?
Affirmations are positive statements that help create a sense of being "good enough1." A person might use affirmations to enhance their confidence, self-worth, or outlook. Research evidence suggests that using affirmations can improve our resilience to stress2, enhance well-being1, and help make changes in behaviour easier1.
The goal of using affirmations on Bipolar Bridges is to encourage users to keep checking in with themselves using the app, while also giving little boosts of encouragement. Users will see the affirmations as daily phone notifications that open up the app when clicked on. They'll have the option to customize what kinds of affirmations they receive. By sending users an affirmation every day, we hope they'll feel more positive and able to cope with the challenges of bipolar disorder.
The Affirmation Writing Process
We want to make sure our affirmations are rooted in the research literature. That's why the first step was to create a huge spreadsheet of findings from bipolar disorder research. Then, the writers could reference these findings when drafting affirmations.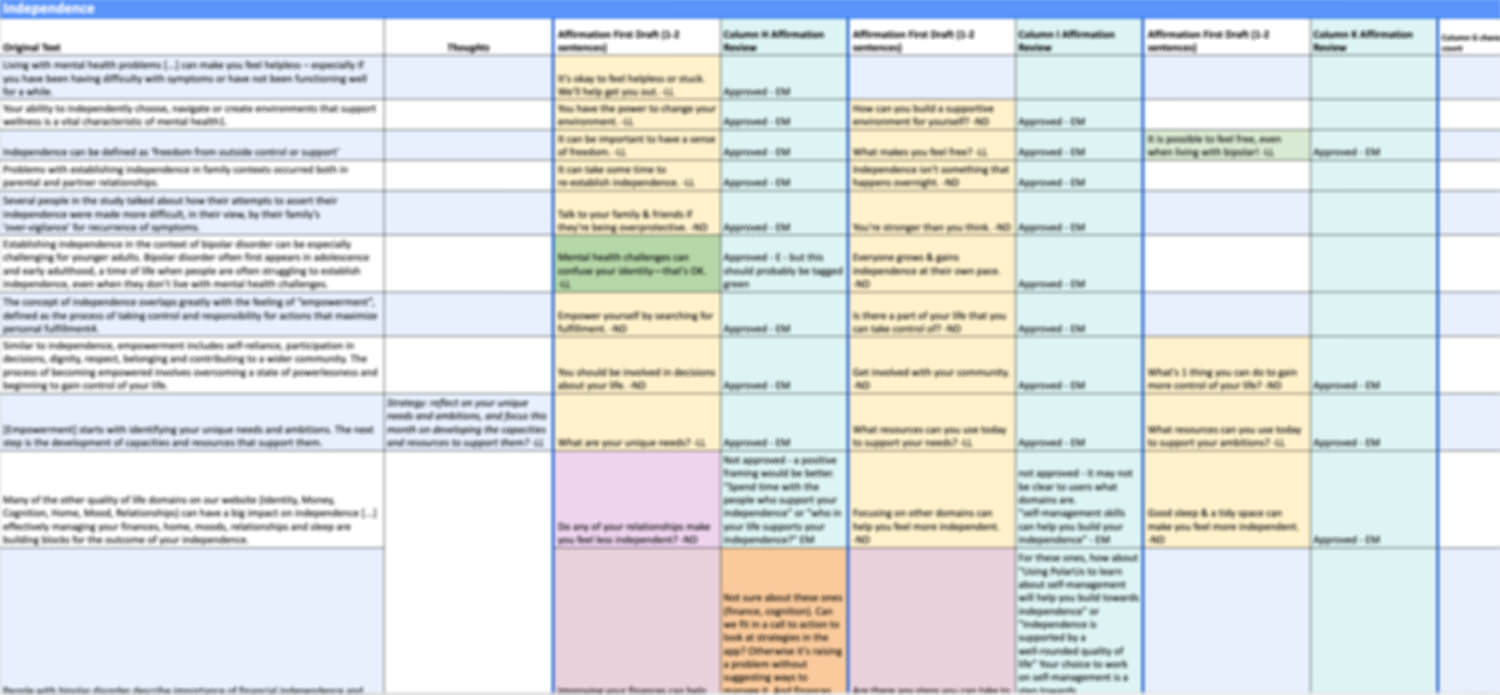 A (blurry) example of one of our spreadsheets.
So, once the spreadsheet was ready, the team of writers moved through each quality of life area to write affirmations corresponding to the findings. This process required reading through the research summaries in the spreadsheet and finding ways to transform them into messages of encouragement.
For example, this research finding about leisure & bipolar disorder:
"Guilt about not turning a hobby into a 'side-hustle' can be a particular vulnerability for people with bipolar disorder. Research shows they are strongly motivated by achievement, and consider their goals and aspirations to be highly important to their self-esteem and identity."
Became the affirmation:
"Don't define yourself only by your achievements & aspirations."
In addition to basing the affirmations in scientific evidence, we needed to keep them short and sweet. Since the affirmations will appear as app notifications, they needed to meet a strict letter count limit of only 62 characters. This was a challenge in itself, especially since research results can be lengthy and nuanced.
Last month, we reached the milestone of having enough affirmations for each life area. We're proud to report that the writing team has written over 1,400 affirmations!
Our Next Steps
As the next step, our team of reviewers–Dr. Erin Michalak, Dr. Steven Barnes, and Dr. Emma Morton–is going over each affirmation. They're checking to make sure the tone is correct, that they are helpful, and that they are faithful to the research. We're happy to report this process is in its very final stages!
We've also begun working on the rest of the content for the app. This will involve creating descriptions of each Quality of Life area, as well as writing out strategies that you can use for maintaining quality of life.
There's still a lot of writing to do, but we're well on our way!
---
References
Cohen, G. L., & Sherman, D. K. (2014). The psychology of change: self-affirmation and social psychological intervention. Annual review of psychology, 65, 333–371. doi: 10.114
Sherman, D. K., Bunyan, D. P., Creswell, J. D., & Jaremka, L. M. (2009). Psychological vulnerability and stress: the effects of self-affirmation on sympathetic nervous system responses to naturalistic stressors. Health Psychology, 28(5), 554