Back in the fall of 2019, I was introduced to the Digital Divide study through Dr. Shelly Ben-David. The Digital Divide study focuses on understanding the gaps between online digital mental health and access for diverse youth with mental illness. I was a former student of hers in the MSW program at UBC Okanagan and wanted to keep a foot in the research world as I began to navigate a career as a therapist. Little did I know that my involvement in this project would coincide with the COVID-19 pandemic, a time when access to digital mental health services became crucial.
The Digital Divide Study
My first project as a research assistant was working alongside Shelly on a scoping review looking at youth and digital mental health technology (DMHT) from 2010-2020. A scoping review determines the 'scope' of a body of literature in any given topic. In our case, we wanted to sift through the literature to understand the gaps that prevent youth from accessing DMHT. This is important because although youth are connected to the internet more than any other generation, many youth report in studies their concerns about how to best navigate DMHT for their wellness. One thing that stood out to me when exploring the literature was how the technology that youth accessed changed over time. For example, I saw the shift from MySpace and Tumblr to more contemporary apps like TikTok and Instagram in the more recent studies completed with youth. Check out this blog highlighting findings from that initial scoping review.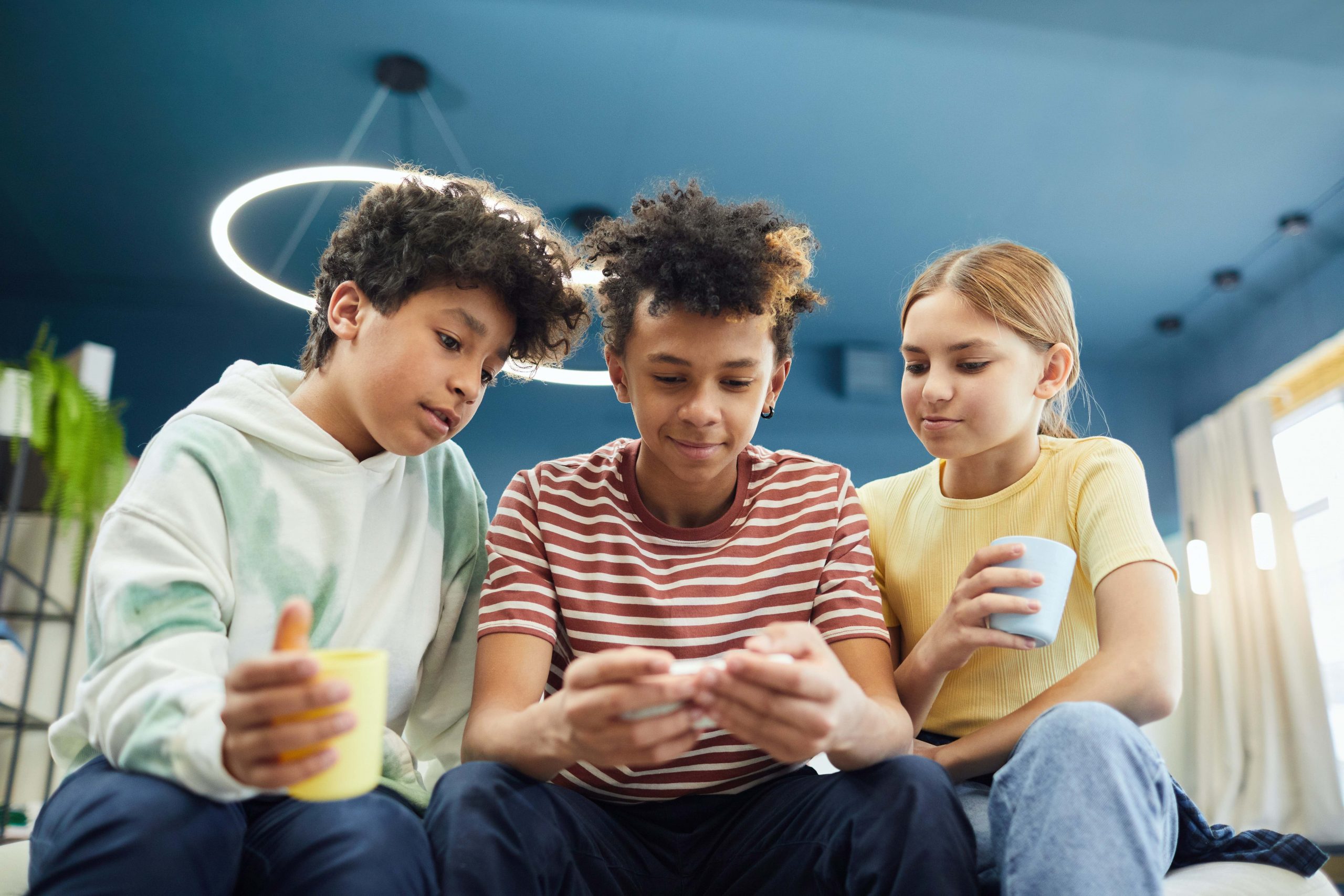 Bridging the Digital Divide of Scoping Reviews in Health
From there, we decided to conduct a further scoping review focused on the 43 articles in the original review that spoke about the barriers and facilitators youth face when accessing DMHT. These articles included qualitative and mixed-method studies from 2015-2020. We intentionally chose studies where youth were asked to describe their experiences so we could learn directly from people with lived experience about accessing DMHT. A funny thing Shelly and I learned quickly was the effect of putting two Libras together who are as detail-oriented as we are. Turns out it can lead to lengthy but rich discussions about what data qualifies as a barrier or a facilitator, and also lengthy but rich and indecisive discussions about what data qualifies as a barrier or a facilitator. Going outside for walking breaks and blasting songs like Pump Up the Jams by Technotronics were both highly effective mood boosters during this process.
Barriers and Facilitators
In the end, six categories emerged that described different factors that encouraged youth to access DMHT: design facilitators (n=31), safety and trustworthiness (n=31), content facilitators (n=21), accessibility (n=20), connecting to peers (n=17), and improvements in wellbeing (n=15). Meanwhile, five categories captured barriers to accessing DMHT: content barriers (n=24), internal barriers (n=19), privacy concerns (n=15), design barriers (n=14), and external barriers (n=12).
As you can see, several interacting factors can impact a youth's ability to access DMHT.  For example, the look and feel of the app (i.e., its design) can be both a facilitator and a barrier, depending on variables like whether it's youth friendly and engaging. Yet, even if it were the most engaging tool, external barriers like whether the youth have access to wifi can affect their access. The overarching outcome that emerged is that increasing access to DMHT for youth must be tackled from multiple levels, which we explore further in the model below.
Youth Engagement in Research and Diversity
We also spent some time looking at youth engagement in research and the amount of diversity among participants in the research. The McCain Model of Youth Engagement (Darnay et al., 2019) was used as a guide to capture youth engagement in research. Past research shows that youth often don't get a say in the research and development phase of products that are supposed to be made for them. Therefore, we were curious to see how youth were being engaged in DMHT research. It turned out that the majority of articles had youth as participants (n=33), six articles had youth as consultants (e.g., a youth advisory group, pilot testing content), and another four articles had youth involved in research at the partnership level (e.g., youth are part of the research team and involved in one or more stages of conducting research). We took a moment to reflect on how we had involved youth in our own study and found we also had youth engagement across these three levels. In fact, you can read about our youth research assistant experiences here on the CREST BD blog.
In terms of diversity, we were surprised to find many articles didn't provide demographic information about their participants, and for those that did, the majority of articles focused on white youth. Only a few focused on Indigenous, housing insecure, 2SLGBTQIA+, Black, Asian, or Latin youth. Additionally, a small portion of articles provided gender demographics that were outside of the binary "boy" and "girl".  Clearly, there is more work to be done in researching youth experiences in the digital mental health field from multiple levels of intersectionality.
The DMHT Design Framework
Finally, having accumulated all this rich knowledge, we crafted a framework that researchers and developers could use to guide the creation of DMHT resources for youth,  called the DMHT Design Framework (see figure below).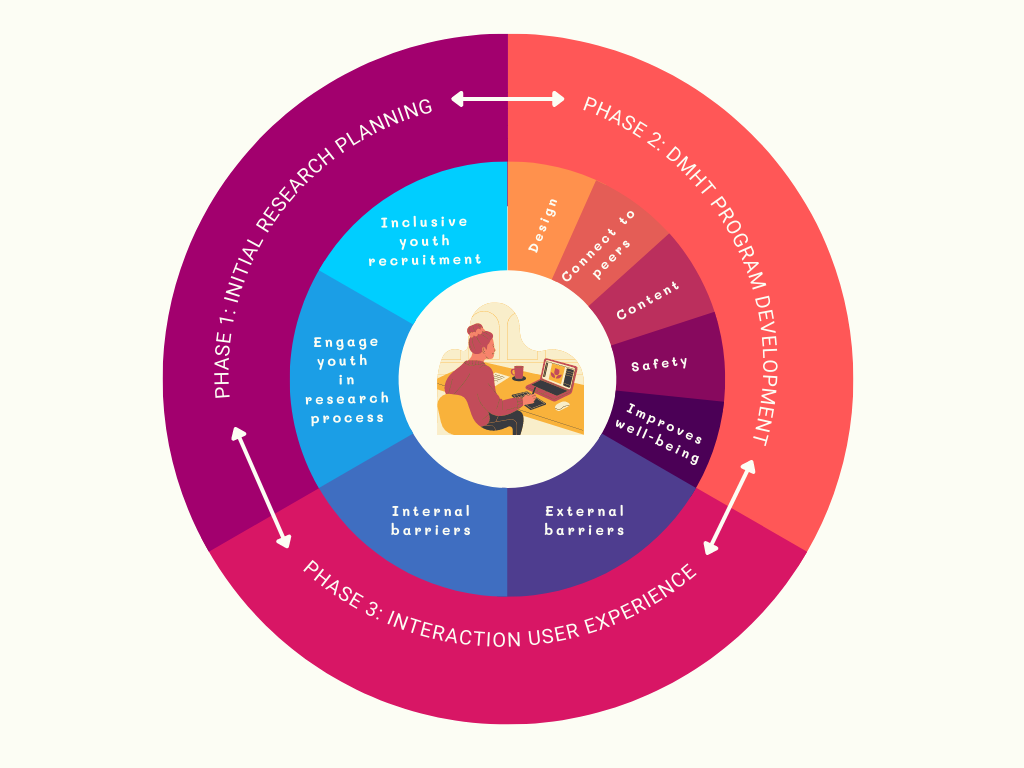 This figure incorporates all the components from our research into a framework for developing DMHT tools.
Phase 1: Initial Research Planning Stage
This phase represents the first stage of developing a tool. Here we highlight the importance of engaging youth in the early stages of the research process and ensuring that recruitment is inclusive. This means youth voices will be integrated from the very start.
Phase 2:  DMHT Program Development
This phase discusses important design features to consider when developing a tool, based on the barriers and facilitators we found in our review. Use this as a guide to identify helpful design features to include that promote access, and those to avoid that will hinder the youth's ability to access DMHT
Phase 3: Interaction User Experience
This phase highlights the environmental and personal factors to consider when developing a DMHT tool. When developing a tool one has to consider the individual needs of the user, their physical environment (e.g., access to wifi), and the social environment (e.g., stigma). The more attention given to these factors during tool development the higher likelihood that youth will access and continue using DMHT.
The circular shape of the framework mirrors the evolving nature of developing and implementing a digital mental health tool. Since technology, trends, and language can shift so rapidly, it is important for developers and researchers to continuously monitor tools to ensure they are meeting the needs of the user. If the user's needs are not being met, we encourage you to return to different phases of the framework to revise the tool. To ensure optimal engagement from youth we highly encourage that the tool be monitored on an ongoing basis to ensure its relevance and utility for youth.
We look forward to our research being used to help improve access to digital mental health services for the youth of today and beyond.
Funding for this project was provided by the BC SUPPORT Unit Patient Engagement Methods Cluster. To learn more about the work of the BC SUPPORT Unit, visit: https://healthresearchbc.ca/bc-support-unit/about-us/
Citations:
Darnay, K., Hawke, L.D., Chaim, G., Henderson, J., and the INNOVATE Research Team (2019). INNOVATE Research: Youth Engagement Guidebook for Researchers. Toronto, ON: Centre for Addiction and Mental
Health
---
About the author: Melissa Campos, B.Sc, BSW, MSW, RSW
I am a research coordinator with the C.R.E.A.T.E YMH Lab and psychotherapist of my private practice called Koselig Counselling Inc. based in Kelowna, BC. The duality of working in both worlds allows me to inform my research and clinical work with perspectives from each side.  In my clinical work I enjoy working with those who are 'too hard on themselves'. In other words, I am passionate about supporting adults who struggle with anxiety, perfectionism, burnout, and teaching them to be kinder to themselves.  Outside of the lab and the therapist couch, I enjoy reading, yoga, climbing, traveling, and hiking.