After the year we've all had, you might be thinking the last thing you want is to take a look back. But bear with us! We think you might find something interesting or helpful in here.
From webinars, to mobile apps, to strikes, to magic mushrooms, read along for a recap of everything CREST.BD has been up to in 2020.
---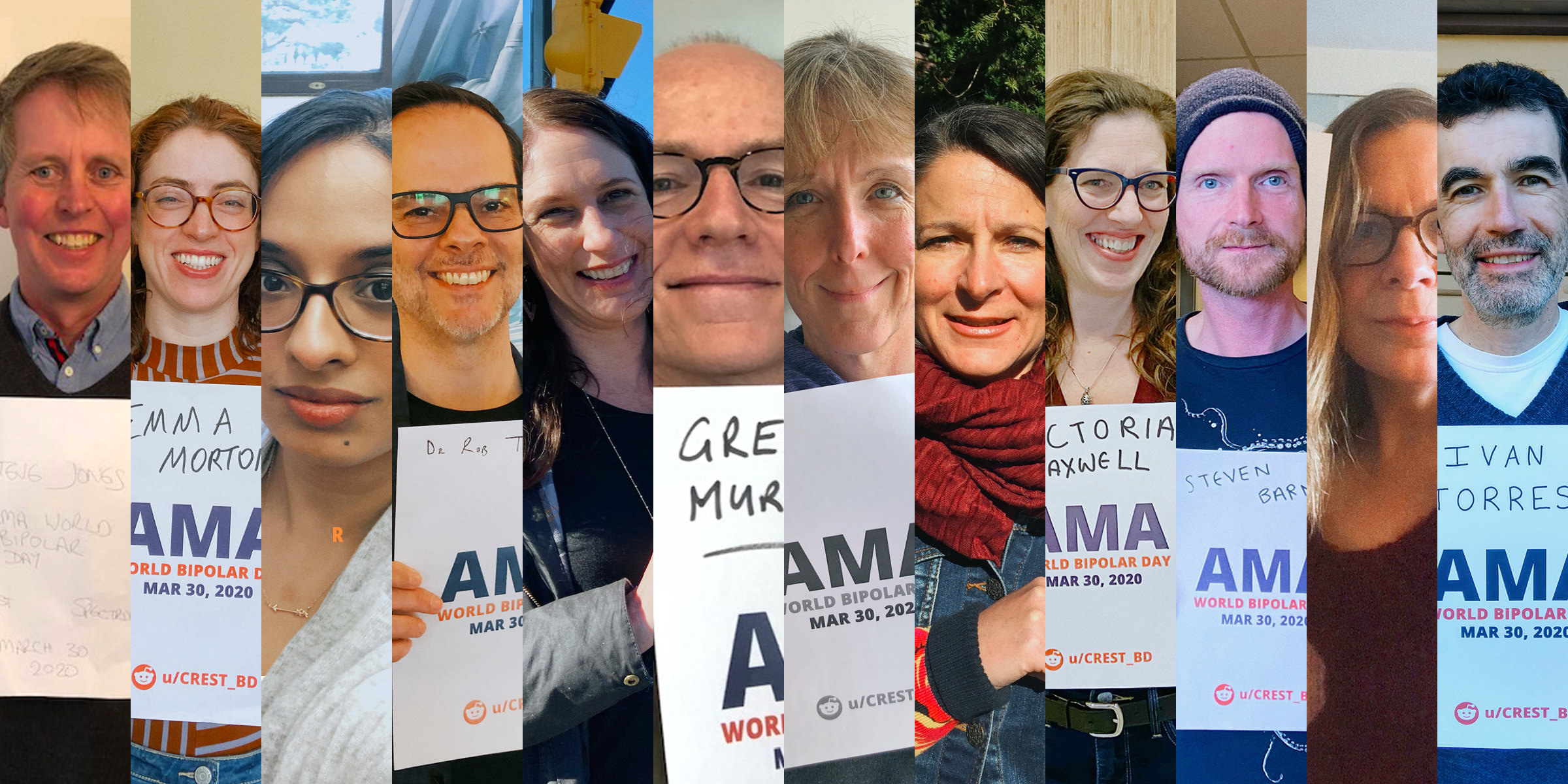 World Bipolar Day AMA
For World Bipolar Day, on March 30th, we hosted our second-ever Reddit "Ask me Anything." We were blown away by the response! Our team of bipolar disorder experts answered hundreds of questions about bipolar disorder, making for a thread that totalled over 1000 responses! You can view the thread here, or find the highlights here on the blog.
Read AMA Highlights
---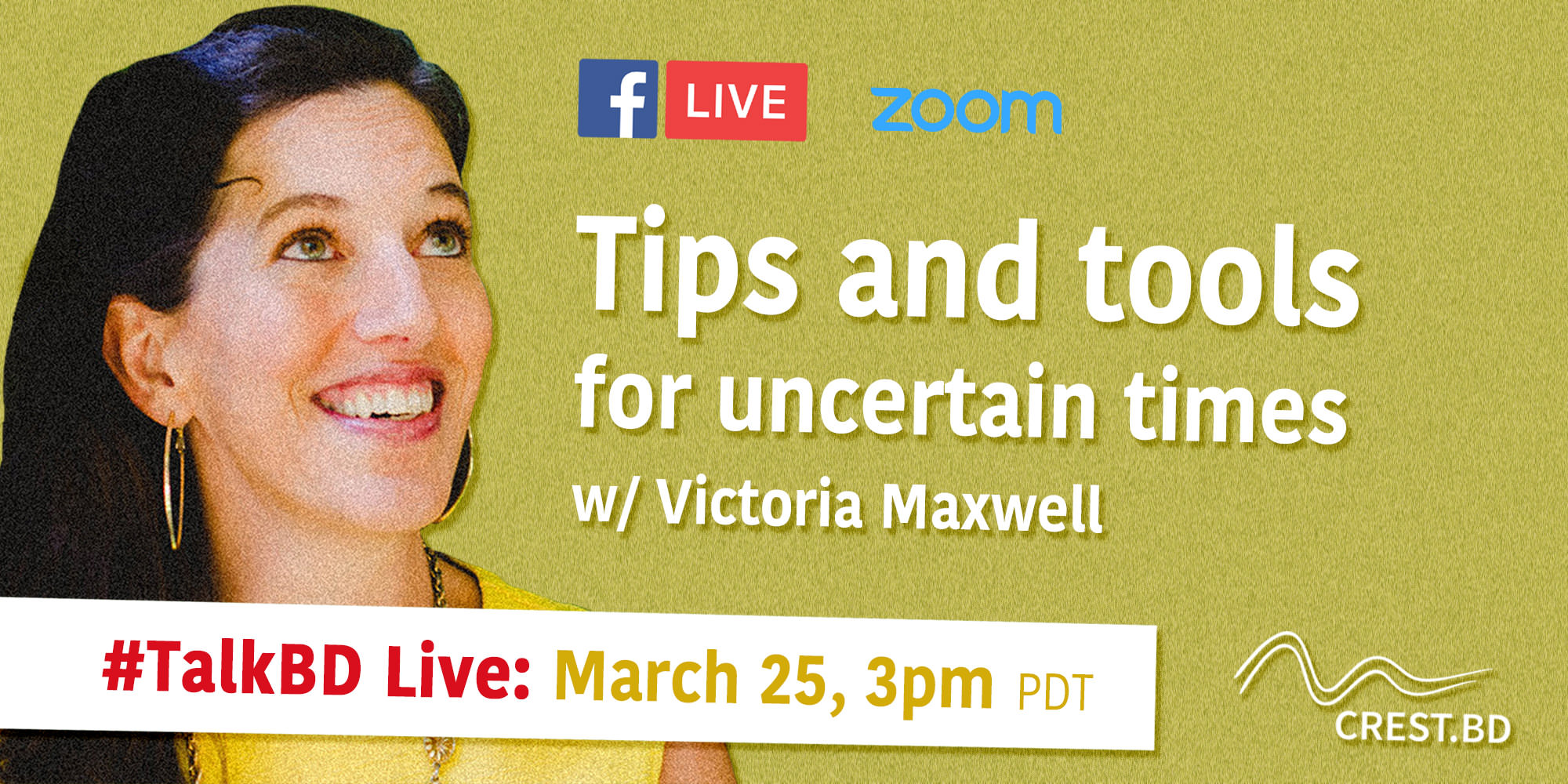 We launched #TalkBD!
#TalkBD LIVE is our series of online community gatherings that address mental health needs during the COVID-19 pandemic. At each #TalkBD, we cover a different topic and bring on a person with lived experience (usually Victoria Maxwell!) and a new guest. We've covered a range of topics now, including anxiety, finances, cognition, sleep, and relationships. We've wound down for 2020, but all of the past webinars are available to view at talkbd.live!
Watch #TalkBD
In 2021, we'll be back with a new #TalkBD on resiliency and bipolar disorder, featuring actress and mental advocate Alessandra Torresani! Stay tuned.

---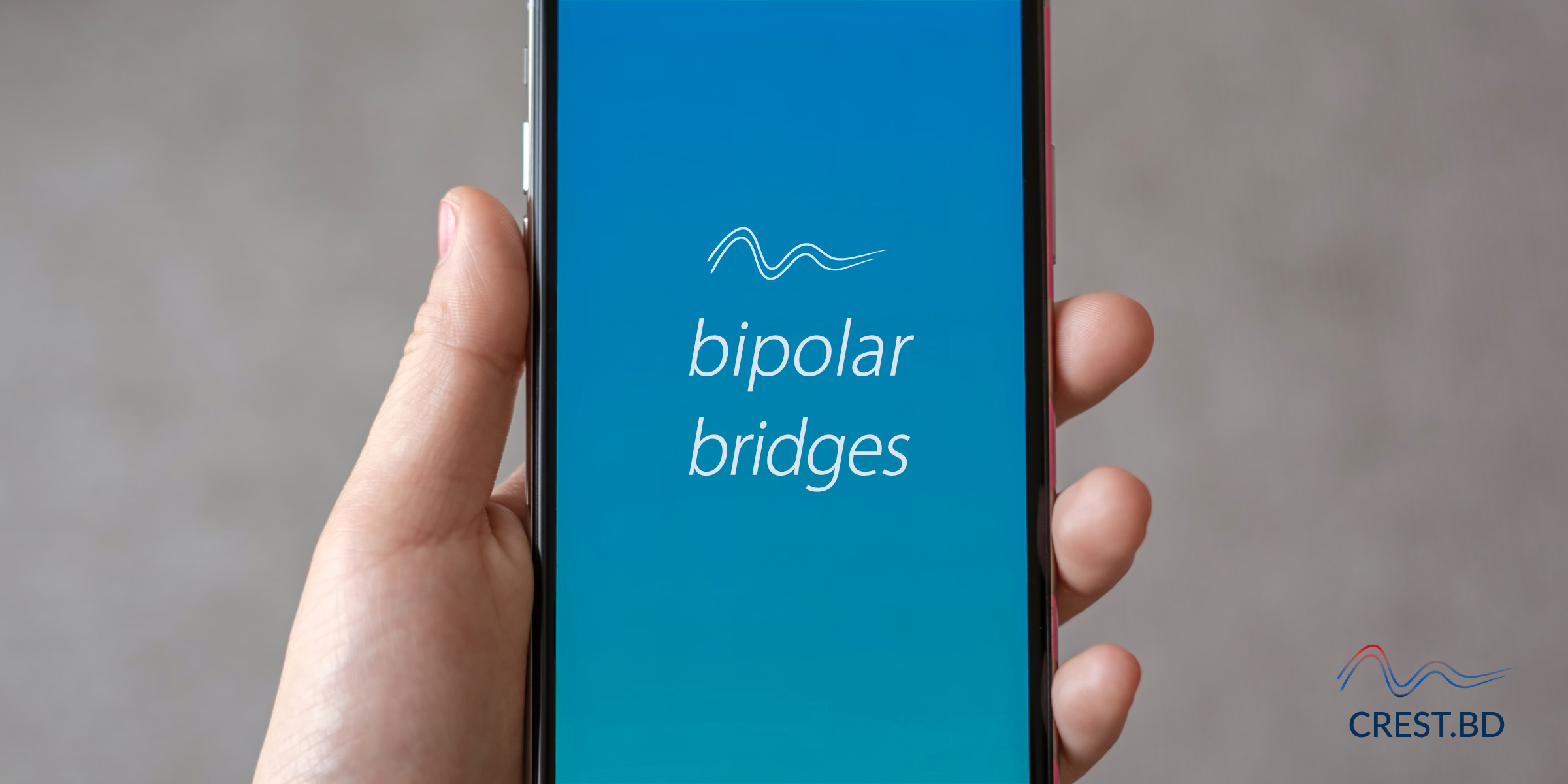 Updates on the Bipolar Bridges app project!
Bipolar Bridges is our research project to create a mobile app for bipolar disorder. It's a big endeavour, with a huge team of experts and lots of research to do. It involves considering what even makes an app successful, a topic that co-investigator Dr. Heather O'Brien wrote a fantastic blog post about.
As part of the project, we launched a global survey of people with bipolar disorder to report the apps they use. We were overwhelmed with the incredible response of over 1000 people!
2020 also saw the establishment of our Bipolar Bridges Advisory Group (aka "the BBAG"), a team of people with bipolar disorder who weigh in on the process of researching and designing the app. Marek and Rosemary, our co-chairs, just wrote a blog post about the group—read that here!
We made good progress in 2020, but there's still a lot of work ahead. Stay tuned for lots more updates in 2021!
---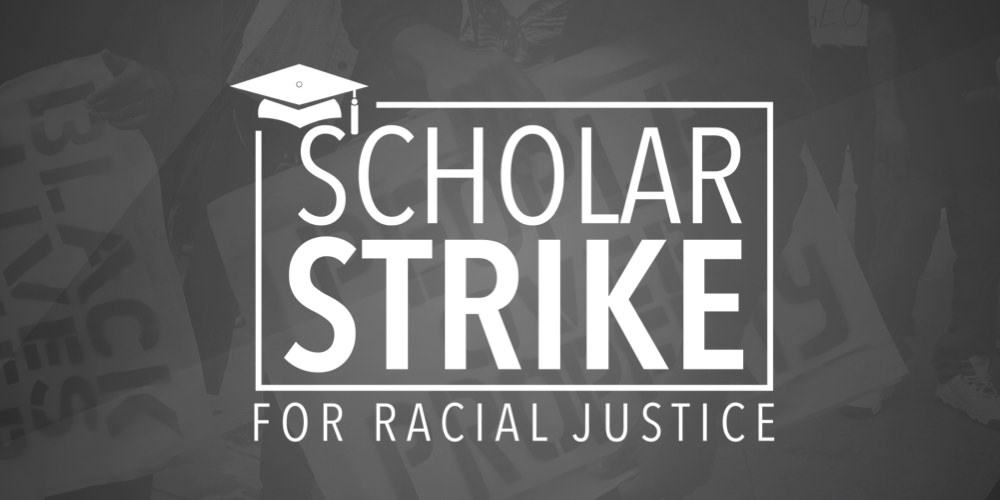 Racial Justice and Scholar Strike Canada
Understandably, many of us have talked about how we're ready to put 2020 into the past. However, there's one element of the past year that, in order to create an ethical society, must be carried into the future: a focus on racial justice.
For many privileged to not have to think about race in our daily lives, 2020 has been a wake up call. For those who contend with racism daily, the focus is long overdue. In September, we joined academics across Canada in observing Scholar Strike Canada, a protest and series of teach-ins against racist and colonialist police violence.
At present, a paucity of research exists on bipolar disorder and race, and much more work needs to be done. To help share what little research currently exists, a list of 10 findings on race and bipolar disorder is available here on our blog.
Let's all commit to keep working towards racial equity in 2021.
---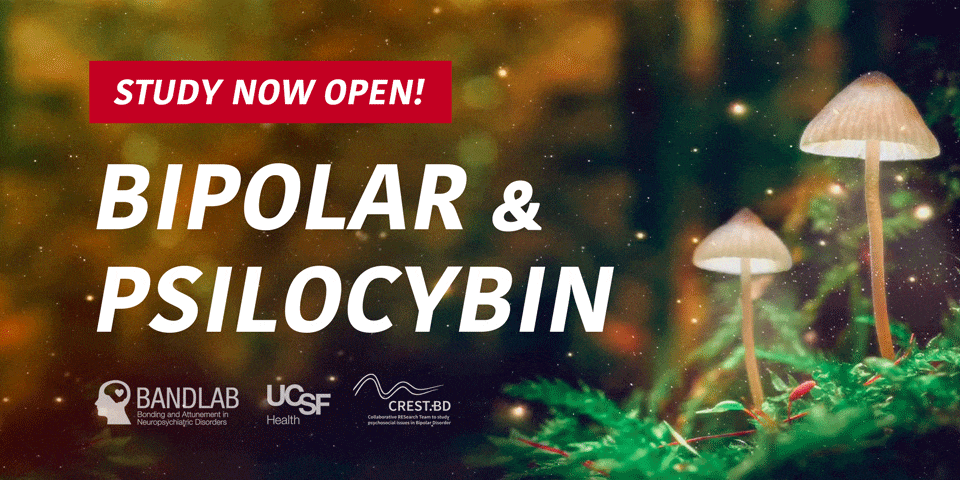 The Bipolar Psilocybin Project (BiPsi) – Bipolar Disorder and Magic Mushrooms
After decades of research on psychedelic therapy being halted, an exciting shift is taking place! More and more research to investigate psychedelics for mental health is being approved. We're delighted to be on the forefront of this work in the bipolar disorder field, through our partnership with the University of California, San Francisco BAND Lab.
The Bipolar Psilocybin Project (BiPsi) looks at the use of "magic mushrooms" for depression in bipolar disorder. Right now, the BAND Lab is doing a survey to learn what people have already experienced with magic mushrooms and bipolar disorder.
If you have bipolar disorder and have taken a full dose of psilocybin, please consider taking the survey!
Take the Survey!
Early next year, we'll analyse the data, and hopefully see the results published later on in the year. Research can take a long time, but we hope you'll stick around as we wait for the results! To get updates on BiPsi and other studies, consider joining our CREST Currents mailing list at crestbd.ca/currents.
---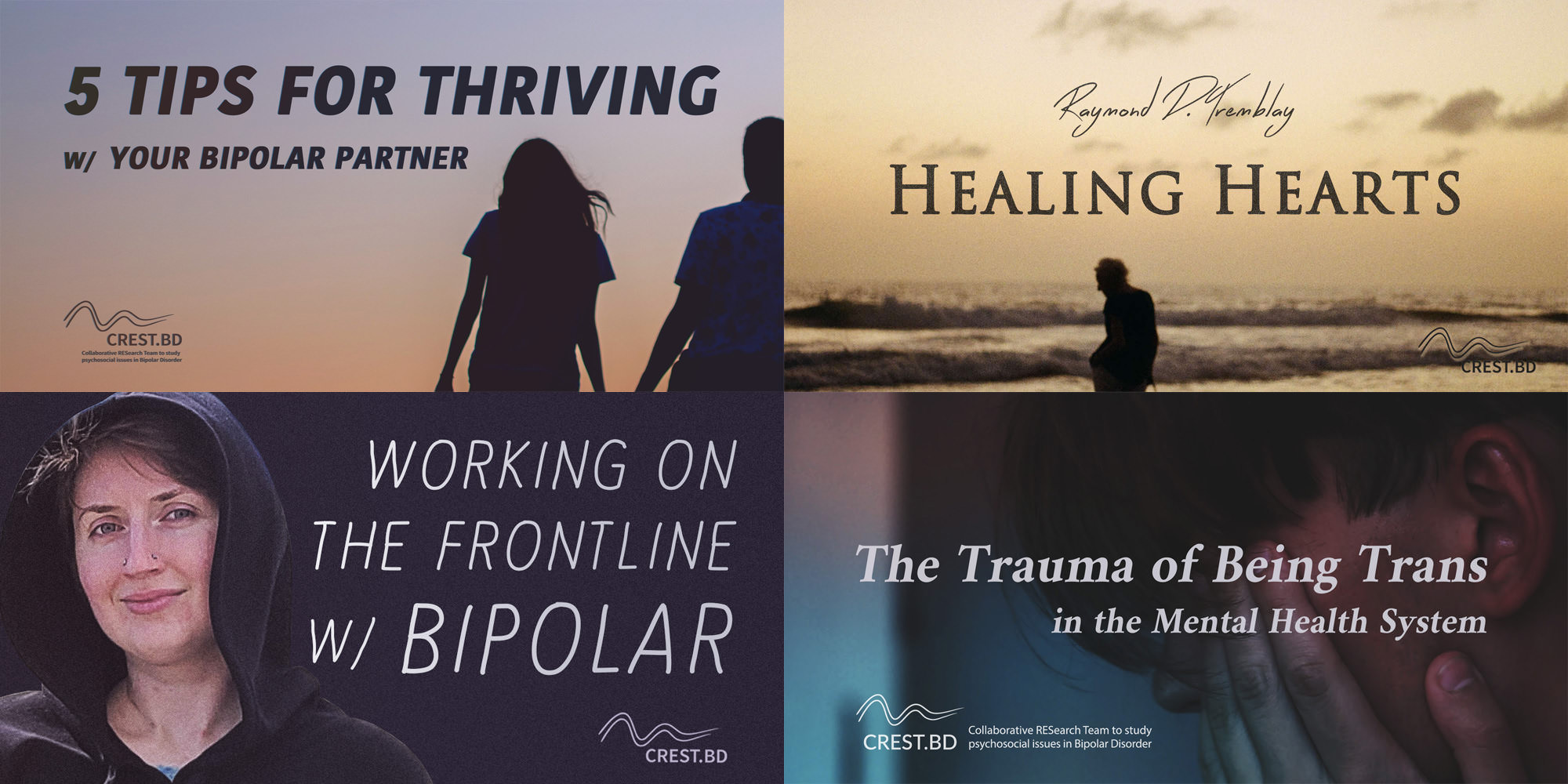 Lived Experience Blogs
2020 saw new insights from some of our biggest blog contributors, as well as perspectives from new authors. Here's a full list of all the lived experience blog posts from 2020:
Crazy Glue: 5 tips for thriving in a relationship with your Bipolar Bear by Megan N.
Even the Winding Roads Can Lead You Home by Raymond Tremblay
Healing Hearts by Raymond Tremblay
Living with a Family Member with Bipolar Disorder by Ethan Axler
Making Chomavision – A documentary about Bob Choma, artist with bipolar disorder by Bruce Saunders
The Trauma of Being Trans in the Mental Health System by Danya
Whispers of a Healing Heart by Raymond Tremblay
Working the Frontline Side by Side with Bipolar by Natasha Kolida
Writing Poems – One of My Mental Health Safety Valves
by Raymond Tremblay
---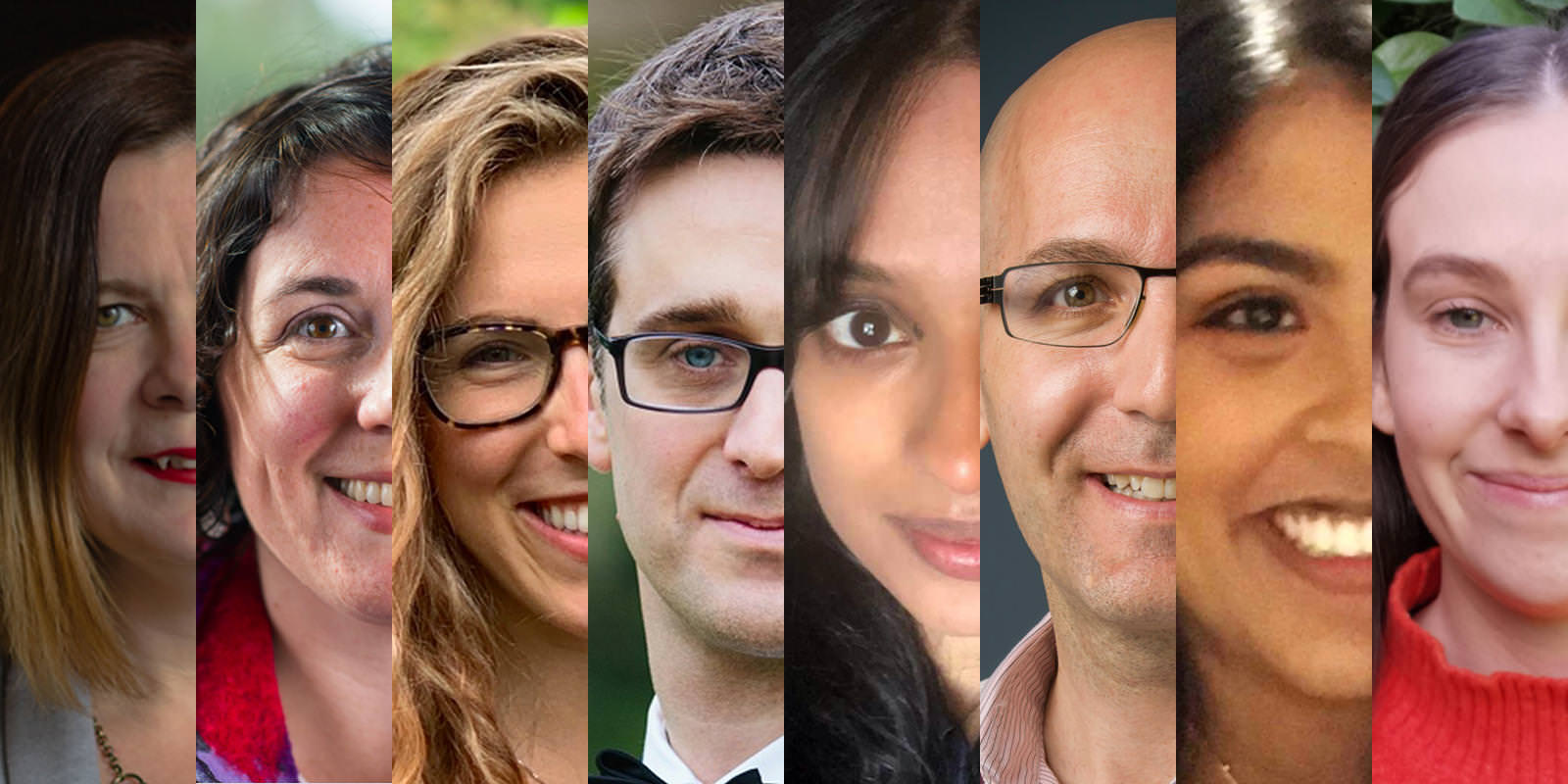 New CREST.BD members
We welcomed several new members to CREST.BD in 2020!
Full Network Members
Dr. Jill Murphy, Research Associate in the Department of Psychiatry at the University of British Columbia and is the Strategic Initiatives Director for the APEC Digital Hub for Mental Health.
Dr. Heather O'Brien, Associate Professor, iSchool, University of British Columbia
Dr. Mollie Pleet, Clinical Research Fellow​, San Francisco VAMC & University of California, San Francisco (UCSF)
Dr. Josh Wooley, Associate Professor, Department of Psychiatry and Behavioral Sciences, University of California, San Francisco (UCSF)
Dr. Trisha Chakrabarty, Assistant Professor, Department of Psychiatry, University of British Columbia
Dr. Benjamin Goldstein, Professor of Psychiatry and Pharmacology, University of Toronto
New Trainees
Piyumi Nimna Kahawage, PhD student in clinical psychology at Swinburne University.
Lauren Johansen, PhD student in clinical psychology at Swinburne University.
And, Dr. Hailey Tremain graduated with her PhD, and became a full CREST member!
Congratulations to Dr. Tremain!
---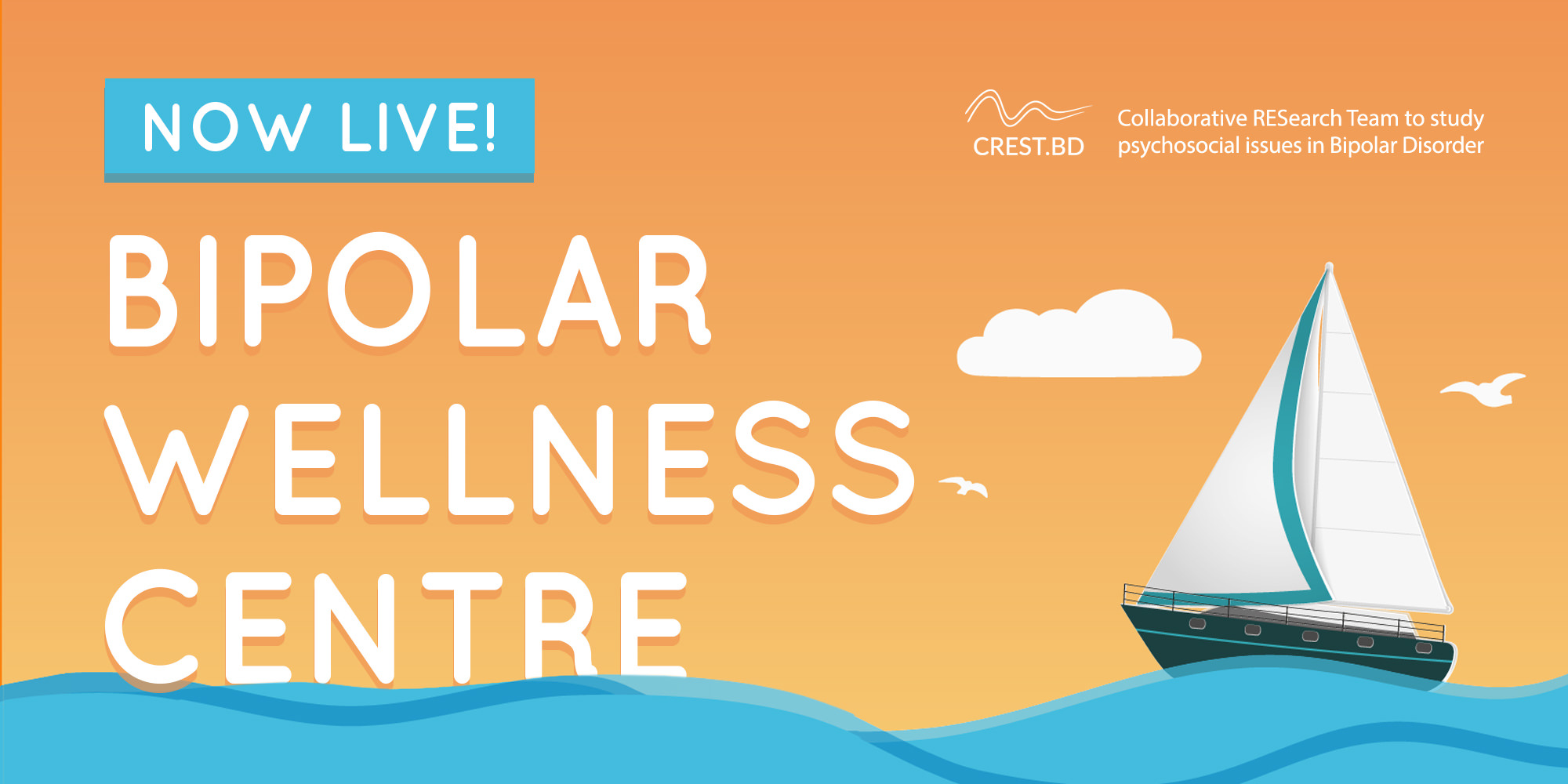 We launched our updated Bipolar Wellness Centre!
Our Bipolar Wellness Centre was re-launched with updated content and a new look. The website gives concrete, evidenced-based advice on living well with bipolar disorder. It can also be used with our Quality of Life tool, which will tell you know you're doing in 14 life areas.
Visit the Bipolar Wellness Centre
In 2021, we'll be adapting its content to the Bipolar Bridges app, with help from the BBAG! We're excited to see what lies ahead.
---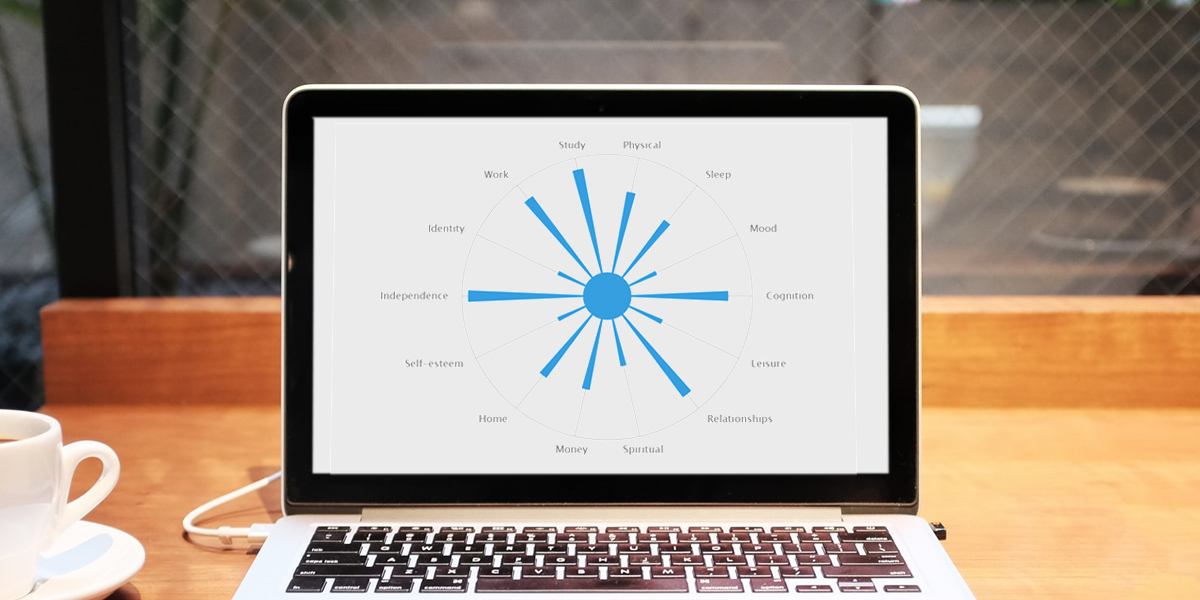 Publications
This year saw lots of publication coming out of CREST.BD! Here are five publications that represent the work we've been doing this year.
Morton, E., Murray, G., Yatham, L. N., Lam, R. W., & Michalak, E. E. The Quality of Life in Bipolar Disorder (QoL.BD) questionnaire a decade on – A systematic review of the measurement of condition-specific aspects of quality of life in bipolar-disorder. Journal of Affective Disorders.
O'Brien, H.L., Kampen, A., Morton, E., Barnes, S.J., Michalak, E.E. (2020). Beyond clicks and downloads: Why we need a more comprehensive approach to measuring mHealth app engagement. BJPsych Open.
Stefana, A., Youngstrom, E. A., Jun, C., Hinshaw, S., Maxwell, V., Michalak, E.E., & Vieta, E. (2020). The COVID-19 pandemic is a crisis and opportunity for bipolar disorder. Bipolar Disorders.
Morton, E., Hou, S., Fogarty, O., Murray, G., Barnes, S., Depp, C., Michalak, E.E., CREST.BD. (2020) Web-based adaptation of the Quality of Life in Bipolar Disorder (QoL.BD) questionnaire: A psychometric evaluation study. Journal of Medical Internet Research Mental Health. 7(4), e17497.
Lapadat, L., Balram, A., Cheek, J., Canas, E., Paquette, A., Group, B. Y. A., & Michalak, E. E. (2020). Engaging Youth in the Bipolar Youth Action Project: Community-Based Participatory Research. Journal of Participatory Medicine, 12(3), e19475.
---
Thank you so much for following along with our updates! To keep up to date on our projects and events, join our newsletter at crestbd.ca/currents. We'll soon be sharing more details about our upcoming #TalkBD – Resiliency and Bipolar Disorder, featuring Alessandra Torresani!
2020 has been a difficult year for us all. Let's move into 2021 with hope, optimism and collaboration.
---
Follow us on social media: